Many of you have asked for a way to contribute to Couchsurfing beyond Contributions and Verification, and now you can. We have just launched Couchsurfing Donations, which is a one-time, non-recurring payment made to Couchsurfing. Your donations will help keep Couchsurfing financially stable and help us build new features that will make your experiences traveling the world even better, easier and more fulfilling. We are so grateful for all of the support from our community and are committed ot ensuring that Couchsurfing continues to provide life-changing experiences for many years to come.
How to Donate?
Step 1: Either click the 'Donate' button from your dashboard page on the Coucshurfing.com website, or click here!

Step 2: Select the dollar amount you wish to donate, or enter your own amount.
Please note all donations are in US Dollar and the minimum donation accepted is $1.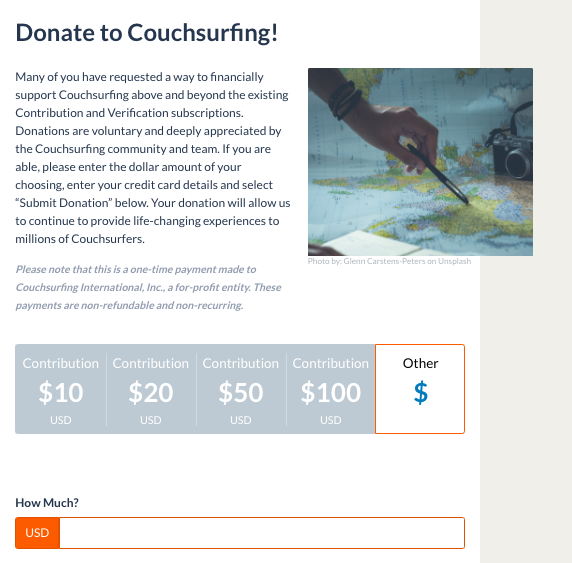 Step 3: Enter your Credit Card information and click 'Submit donation'!
Please note that this is a one-time payment made to Couchsurfing International, Inc., a for-profit entity. These payments are non-refundable and non-recurring.
If you have any questions regarding donations please check out this FAQ or contact our support team here.
Thank you again for supporting Couchsurfing!