There's a something new on our website you should check out!
We listened to your input: you need to be able to view your upcoming Couchsurfing activities at one glance and use the core features of the website more easily. As of today, your "home" page is no longer your local Place Page but a dashboard of your activities on Couchsurfing.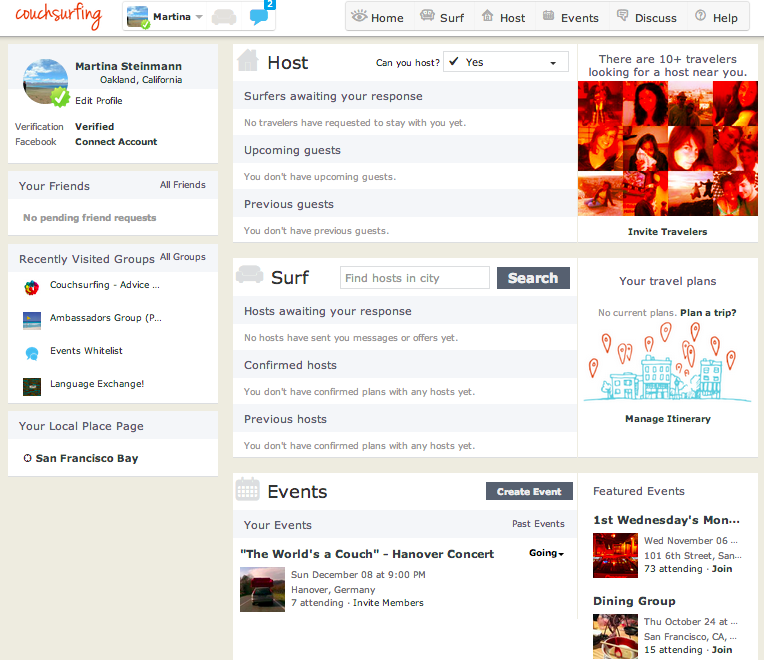 What's the new home page all about?
Your new home page gives you an overview of your upcoming personal Couchsurfing experiences.
It allows you to view and manage:
incoming and confirmed surfers
responses from hosts and confirmed hosts
events you are invited to or attending
The dashboard also shows you how to take additional action, e.g. invite guests, post a travel plan, look for events or find Couchsurfers in your area to meet up (Place Pages). As requested by many users, you may now also look for a couch directly from the dashboard. You will be reminded to write a reference for your previous hosts or guests. On the left panel you may edit your profile, see your pending friend requests and the recently visited groups, with an invitation to join them if you haven't already.
In the future, the dashboard will be your default home page on the website. You can always go right back to it by clicking on the "Home" button in the navigation bar.
A big thank you to our dedicated beta testers who have given us feedback and helped us find and fix bugs in the process. Have fun exploring your dashboard and we hope you like it!
-Best
The Couchsurfing Product and Community Team