How many shoes does it take to walk ten thousand kilometres? Around me and Ezio, the stroller where I carry everything I need, the Atacama desert spreads out silently, unaware of the question. But how did I get here, to the heart of the world's driest desert?
My name is Nico, and a year and a half ago I started to realise my dream: to travel around the world on foot. I left everything behind, said goodbye to family and friends and set off on this journey that will take me on a 35,000 km walk in four years. 
AROUND THE WORLD ON FOOT
Why decide to walk around the world? The answer is slowness: when we travel we are looking for something that we cannot find normally, something that escapes the everyday líder becoming so precious when we find it.
If I think of something that is missing in everyday life, it's: slowness. It is the key to create a special contact with places and people and the quality that allows us to build stories and experiences that one day we will remember. Walking is the most natural way to move from one place to another, we move forward listening to the rhythm of the body, following that of the day: why not to start in this way to discover our world?
THE WALK
When I arrived in Chile, I had already crossed Italy, France, Spain and part of South America. Thanks to Ezio, the stroller with which I walk, I am able to carry enough food and water for the stretches where there are no inhabited centres, managing to cover even 200km without supplies. Following the path of the Pan-American Highway, I walked from Quito, the capital of Ecuador, to Santiago de Chile, where I crossed the 10,000 km mark on foot. In my legs, millions of steps; in my heart, hundreds of stories and encounters. Despite the pandemic, dozens of people opened their hearts to welcome me and made me feel at home for a few days. Even in the driest desert in the world, I found fertile ground to share my story through Couchsurfing. And now I want to tell you about it.
ARRIVING IN CILE – ARICA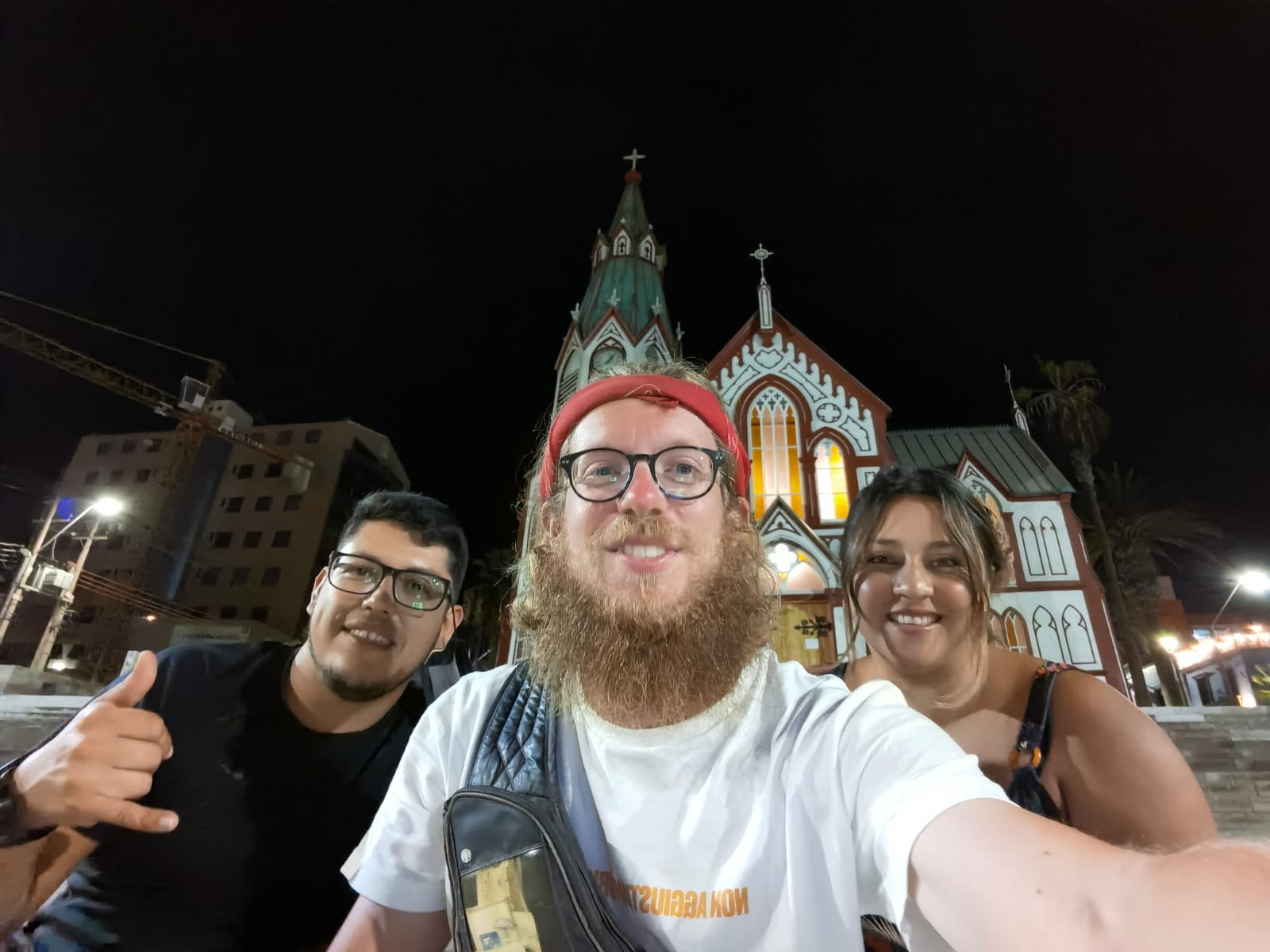 On my first day in Chile, I arrived in Arica, where I immediately experienced the goodness of local hospitality: a family who had seen the walk on social networks invited me to their home, offering a quiet place to rest for a few days. Marcelo and Paulina are my first two Chilean hosts, a young and smiling couple full of energy. The evening I arrived, we all went together to the Morro de Arica, the hill overlooking the bay on which one of the battles of the War of the Pacific was fought – a conflict at the end of the 19th century for the possession of some mining areas. It's early in the weekend and Marcelo manages to take a day off to show me his city. We take a long walk through the coastal caves of Anzac and then go to the museum of the Chinchorro mummies, which he tells me are the oldest in the world, even more than the Egyptian ones! 
But sharing isn't just about going out: after shopping at Agro, the biggest market in the area, we set to the kitchen to share some meals of our traditions. Paulina delights us with rice with olives, while I cook baked pasta and lasagne like a proper Italian. 
After Arica I head south, starting to cross the long Atacama desert, 1500 km of skies and silence. This desert is the driest in the world because the cold Humboldt current from Antarctica rises and clashes with the warm currents from the equator, preventing clouds from forming. There are areas where no rain has been recorded for 50 years. The first, long stretch runs between Arica and Iquique, a nine-day walk. In order not to run out of supplies, I walk 40 km per day, almost ten hours on march, from seven in the morning to five in the afternoon. As I head south, I am surprised by the kindness of the people I meet. Many stop to give me a bottle of water or something to eat, replenishing the supplies that I carry in my stroller Ezio. 
SOUTHWARDS: IQUIQUE AND ANTOFAGASTA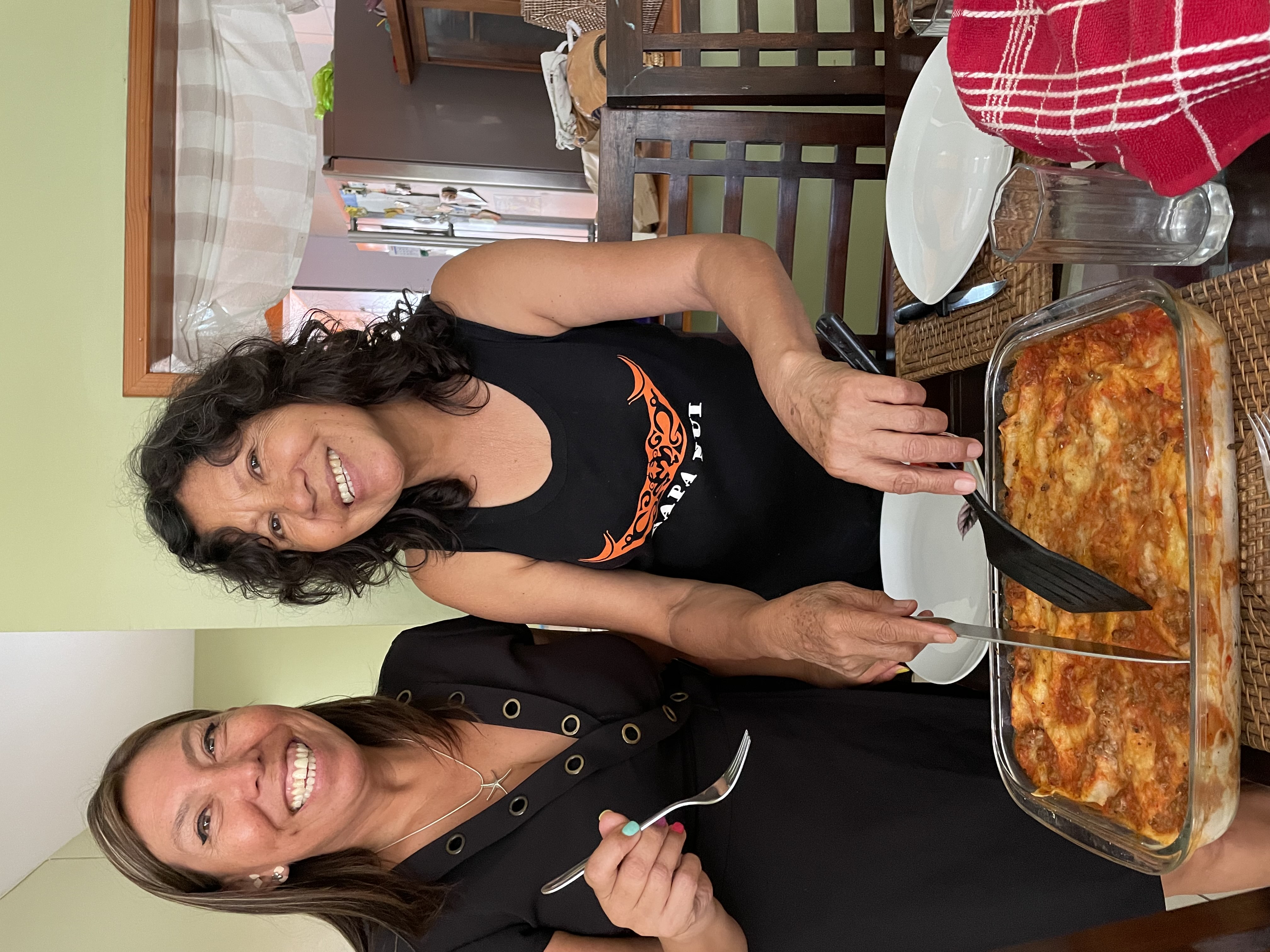 In Iquique another family welcomes me with a huge hug: this time it was Maribel who found me through the social networks. Once again, kindness is the sweetest reward after so much isolation and I can rest in a place where the wind doesn't blow sand on my face. Do you know that feeling of familiarity and trust that you get with some people as soon as you meet them? That's exactly what I felt as soon as I stepped onto the patio at home. We strike up a conversation while I'm stretching my muscles and I find out in a few moments that Maribel has been on Easter Island, exactly where I'd like to go when I get to Santiago! She talks with dreamy eyes about the holiday she spent with her family and just as she's speaking, Maria and Cyrano, her mother and partner, appear. They introduce themselves with big smiles and we get on well with them too. We go for a walk and Cyrano explains to me the story of the marinero desconocido, a statue commemorating another battle of the Pacific War. Back home, Maria starts cooking – she is an extraordinary cook. She prepares porotos con longaniza, a local dish of beans & sausage, and leche asada, a dessert made of milk and caramel. You can imagine how I feel: I empty my plate, fill my belly and the next day I offer to cook lunch. Signed! At dinnertime a funny thing happens. Maribel asks if I want tea, but I don't feel like drinking hot things. She repeats the question a couple of times but I still refuse. Then it's my turn: when do we have dinner? She looks at me a bit surprised: I just asked you that! She bursts into laugh seeing my face. When someone in Chile asks you for a tea, it means that dinner is ready: usually you will eat bread with something, for example cheese and avocado, and drink a hot tea, which here is called mate. That's why Maribel was inviting me to drink tea! 
I leave a few days later, after hugs and promises to meet again, and after four days of walking I arrive in Quillagua, a small pueblo that holds the record for the driest city in the world. I am travelling along Ruta 5, the Chilean stretch of the legendary Pan-American Highway that crosses the Americas from Canada to Chile. I go on through the desert as the desert advances within me. The widespread silence and lack of distractions lead me to withdraw into myself, but at a some point it's as if memories would end and all what's left starts to dissolve into the rhythm of the walk. The Andes are on the left but whenI look down I don't see the road but an enormous mirror that reflects my image. There is nothing else to stare at, so I spend days and days observing the image that the desert shows me, noting details that I had never seen before.
I stop in Antofagasta to buy some supplies but I immediately go back to the desert, I cannot sleep well in the city anymore, too much orange light that wants to look like dawn, too much noise. In the city I am welcomed by Nelson, who tells me that I am the first person he has hosted since the covid began. I am honoured and impressed at the same time. It is difficult to open your door to a stranger,' and even more in these times.
It takes not only courage but also a lot of trust: trust in the words of the people you are welcoming, their health and their behaviour before arriving, vaccinating and behaving carefully. I am grateful to them, just as I am grateful to all the people in Ecuador, Peru, Chile and Europe who have sheltered me during this difficult time. And they quite a lot! More than sixty families have given me a roof, a kitchen, ears that listen patiently and words that teach. Without these people the journey would have lost a fundamental and wonderful component that gives meaning to what I am doing: sharing.
LA SERENA AND SANTIAGO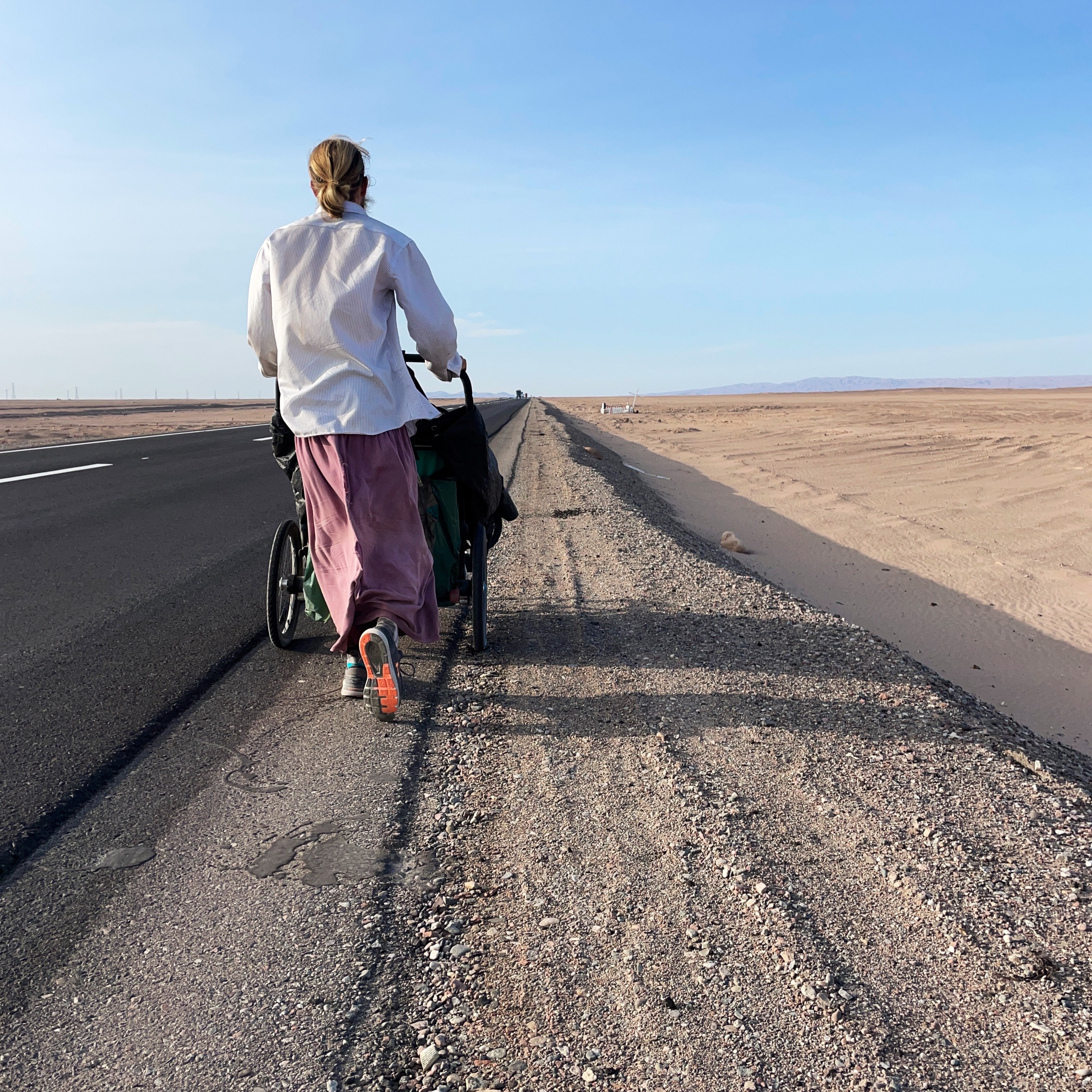 The desert draws to an end near La Serena, a town at the gateway to the Elqui Valley, a tourist destination renowned throughout Chile for the cultivation of Pisco grapes and for the astronomical observatories open to the public. This time Couchsurfing takes me to Belen and her boyfriend Andrew. Here I allow myself more than a few days to rest because the atmosphere of home that I breathe soothes the bittersweet taste left by the desert. Belen has a well-stocked kitchen, so I decide to prepare some recipes that my grandmother taught me, like peperonata and lasagne, my must-do when I am hosted. The guys go crazy, they are delighted and we spend a whole weekend with our legs under the table, exchanging anecdotes about our lives. An Italian in the kitchen is always a great story, remember that. In the evening, Belen and I have endless chats about the desert and the meaning of beauty and I see in her a stimulus to keep researching that makes me want to go on even more and look for the questions that intrigue me. I am fascinated by her gentleness and her concern for the environment. She makes her own soap and has even found a way to recycle plastic bags by compacting them, ironing and making sma wallets out of them. Before leaving, she gives me a small prism of dew moulded with her own hands. This time it is more difficult to leave. 
I set off again and reached Santiago two weeks later, on 30 March 2022, after walking ten thousand kilometres. More than a year has passed since I arrived in South America; I have worn out six pairs of shoes and Ezio, the stroller in which I carry everything I need, has had seven punctures. We have been hosted by wonderful people, collecting their stories and telling ours, a slow journey around the world to discover beauty through diversity. 
But Chile has not yet finished showing its kindness. In the capital, I am greeted by Becky, a sparkling lady with a lively intelligence, who does her best to contact newspapers and radio stations to spread the voice about this walk around the world. Her tenacity is admirable and in a few days she manages to get me interviewed by two local radio stations. Becky loves to cook (much to my delight) and has another quality you don't usually find in hosts: she knows how to respect her temporary housemate's time and space. We align our schedules, she gives me the keys of the house and I am free. I really don't know how to give back all that I am receiving.
The walk keeps going on, I am barely a third of what I dreamt: Australia is the next destination of my pilgrimage.
Come and discover the world with me and Ezio, walking with us on Instagram.