During this time, it is extremely important to practice 'social distancing' and limit in-person interactions. Since this includes travel, you may be thinking that there is no reason to login to Couchsurfing. However, during a time where social interaction is limited – there is no better time to involve yourself with the online communities that Couchsurfing maintains. Here are some ways to e-meet other travelers (and locals!) while respecting quarantine and keeping everyone in your community safe.
1. Jump into groups

There are thousands of groups on Couchsurfing, all public, and all ready to be discovered. Do you love music festivals, but your favorite is canceled? Check out the music festival group. Do you love sailing, but need to stay in doors? Check out the group and see how other sailors are handling quarantine. No matter what you love, there is a Couchsurfing group to connect you with your community – go find it!
Where to find it: Login to the website (unfortunately, groups are not in the app.) Then navigate to 'Groups' in the top right OR search 'Find Groups' to use a keyword to narrow your search.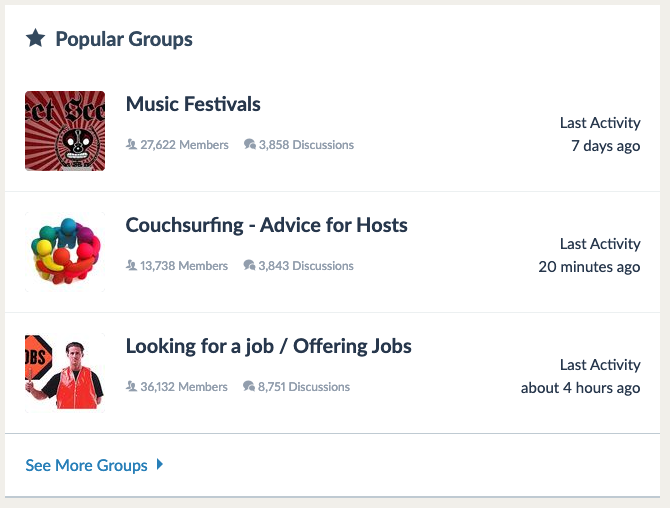 2. E-ttend Events (emphasis on the E)

I know what you're thinking, events is exactly what you're not supposed to do! Although events are usually in a bar, park or cafe – our community is getting creative. There is no reason why an event can't be planned for the world to participate in from the comfort (and safety) of their own home. Have an idea for connecting with your community online during this time, then create your own event. Check out this cool event the Barcelona community put together.
Where to find it: Login to the website and navigate to 'events' in the top right. Open the app, and local events are listed in your dashboard!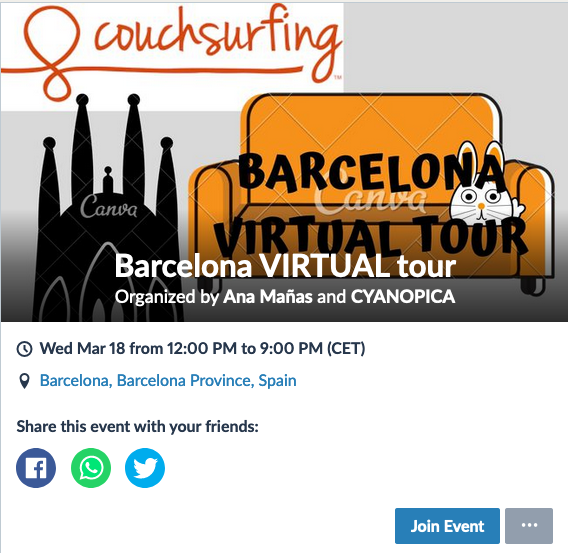 3. Open Hangouts!

Want to see how others in your area are spending their quarantine? Want to chat about movies to stream? Want advice on the best puzzle to order online? Open up hangouts in the Couchsurfing app and start chatting with others!
Where to find it: Hangouts is only available in the Couchsurfing App. Open the app and navigate to 'hangouts' in the bottom menu.
4. Get Advice!

Want to post a question for all locals in your area? Search 'Find local advice' and your city. It's a great time to ask how others are passing their time, a TV recommendation to practice the local language, music to explore, or hidden places to see once quarantine is over.
Where to find it: Login to the website. In the search box, scroll down to 'Find Local Advice'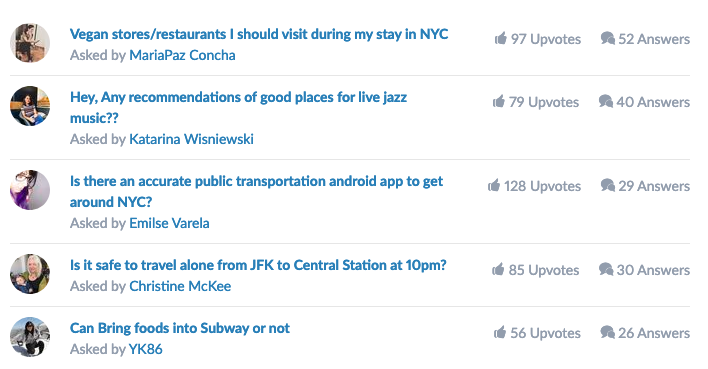 5. Start a Discussion!

What are locals talking about? Check it out right on your dashboard in discussions! You can hop into other people's threads or start your own. Get people talking, meet others in your community, and find out a little bit more about your community!
Where to find it: Login to the website. On your dashboard, scroll down. Discussions are below events in 'What's happening near…'!

How are you using Couchsurfing during quarantine? Share your stories and tips in the comments or on social!