"It's freezing here, especially at night."
"Geez… But… Cold, how cold? What temperature?"
"It's cold dude, at night it goes down to 15 degrees!"
"…"
Ecuador is a strange land. It's a rich country with poor people having fun dancing sad music. The country sits astride the ecuatorian line but even here there is a right to be cold, so it's OK for its inhabitants to bang jugs at ten degrees. Ah, another thing: nobody likes walking. When I ask how long it takes to get to the market, they tell me it's far, very far, you have to take a mototaxi. But far, how far? Uuuh walking there is like five, even ten minutes!
I smile, what else should I do? I confirm that I'm going to walk and I laugh seeing their amazed faces when I explain why I don't take transport: I'm walking around the world. Yes, on foot.
WALKING AROUND THE WORLD
My name is Nico and a year ago I set off to fulfil my dream. Why on foot? When we travel, we are looking for something that we don't normally manage to grasp, something that escapes our everyday lives and that becomes so precious when we find it. Slowness, if I think of something that is missing in everyday life it is: slowness. It is the key to accessing a special contact with places and people, it is the quality that allows us to build stories and experiences that one day will be called memories. Walking is the most natural way to move from one place to another, one moves forward listening to the rhythm of the body, following the rhythm of the day: why not set off in this way to discover our planet?
FIRST STEPS IN EUROPE
On 9 August 2020 I closed the door of my house behind me and started walking: during the first hot and sunny days I crossed Italy westwards until the French border, passing Cinque Terre and continuing along the Camargue reserve and the Canal du Midi, a magnificent river channel that cuts through France, connecting Mediterranean and Atlantic Ocean. Next came the Pyrenees, the toughest 30km in all of Europe, having to face a snowstorm in the middle of the mountains. Arriving in Spain, I walked the Camino de Santiago and the Via de la Plata to Palos de la Frontera, the city from where I embarked for the Canary Islands in search of a boat ride to the Americas.
After a month of searching, I managed to find a 12-metre catamaran and crossed the Atlantic in a very long month of alienating detachment from the human world. The crew disbanded on arrival, I proceeded alone to Panama, where I connected Atlantic and Pacific Oceans by walking along the isthmus. In this way, I felt the path interrupted in Spain has started again, without interruption, on the other side of the world. In Panama I met with Humberto on Couchsurfing; during the walk in Europe, I had some couch experiences in France, but because of the 2nd wave of covid hitting hard it was becoming more difficult to find a host. Humberto welcomes me at his place with a big smile and we spend almost a week together, walking (yes, again) around the city and chilling at his place when it was too hot to sneak out.
SECOND CHAPTER: ECUADOR
Next stage starts in Quito, capital of Ecuador, in the middle of the Andes. Here I get some of the best vibes I have ever had con CS. The first night is actually in Tumbaco, some 20 km away from the airport – the plane landed in the afternoon and by walking there's not enough time to get to the capital. David is my host in Tumbaco but when I get there, there's noone. I call him, wandering where he is and what should I do. "Hey man, just go into the house, I left it open for you, have a shower and some rest, unfortunately I'm working and I won't come back home. See you in a few days in Quito!" I'm halfway between blazed and moved. This guy just left his house open for me, a stranger, without doubting a second of my intentions. I get into the place, it's warm and cosy and somehow I feel at ease, safe, that kind of feeling that is beautiful to find when travelling cause it makes you really feel at home. That night, I slept as a baby
Next day I leave for Quito, where Alejandra waits for me. When we connected through the app, we agreed to a 5 days stays, but guess what – it comes to ten. She and her sisters Meli (who is on CS too) and Karo give me the best set of information to approach Latin America.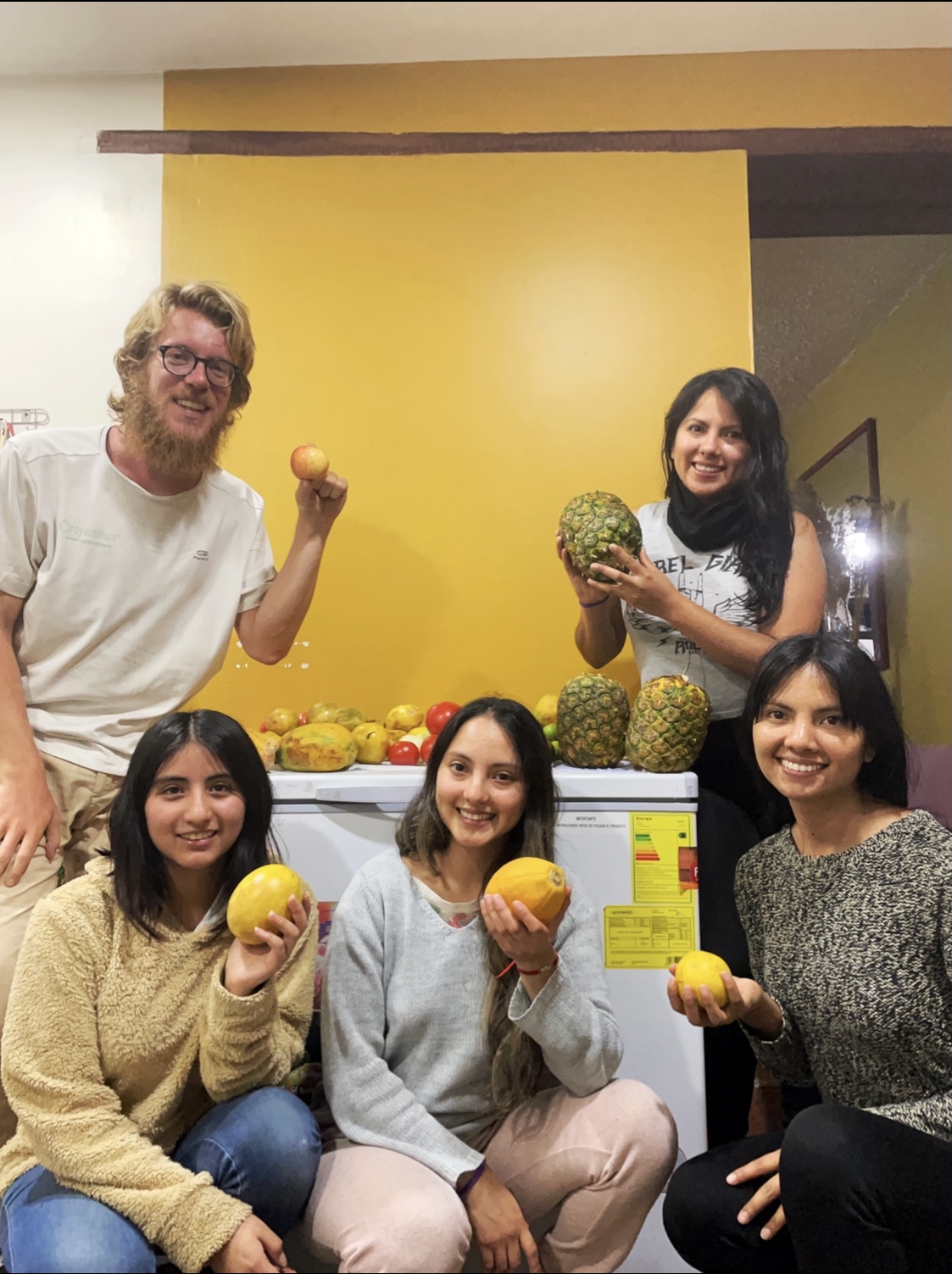 This is my first time here, so they tell me about Ecuador slang and Quichwa culture – different from Peruvian Quechua, another thing I didn't know – history, politics (elections are running those days), food of course and any other thing that come to their minds. I try to absorb everything and when my brain is over we have a stroll at the cathedral – did you know that inside the bell tower there is a whole restaurant?! These days we manage to meet David as well (the host from Tumbaco) and after a couple of beers together he invites everybody for a barbecue at his place next week. That's possibly the best way I could start to know a new continent and its people and I bless couchsurfing to give us all this chance
From Quito I keep going south, descending from 2800 meters of the capital to the ocean. I walk along the Ruta del Spondylus. This road takes its name from the shell of the same name, which in pre-Columbian America had a sacred significance. When the climate changed and the rainy season approached, this shell arrived at the coast, marking the beginning of the fertility season – hence, new life. Once again, I am amazed by Ecuatorian hospitality: there are no big cities to rely on along the way, so I ask if I can pitch my tent near a house and the affirmative answer comes on the first, maximum second attempt. Manabi – this region's name- is also famous for its cuisine. Fish is prepared in all kinds of ways, but my favourite is encebollado, a soup of onions, fish and… peanuts! After the initial perplexity, the combination gets me.
After a couple of weeks, I turn east towards Guayaquil, the country's second largest city. Here I pass by an old friend, Juan Pablo, whom I met in Australia while working in Melbourne. His family welcomes me like a son and his father, Pablo, hands me a list of national dishes that I must try absolutely. I scroll through the list with him, ticking off the foods I have already tried. With a bit of pride, I reckon I am more than halfway through it, so Pablo offers to help me by letting me try other specialities while at their place.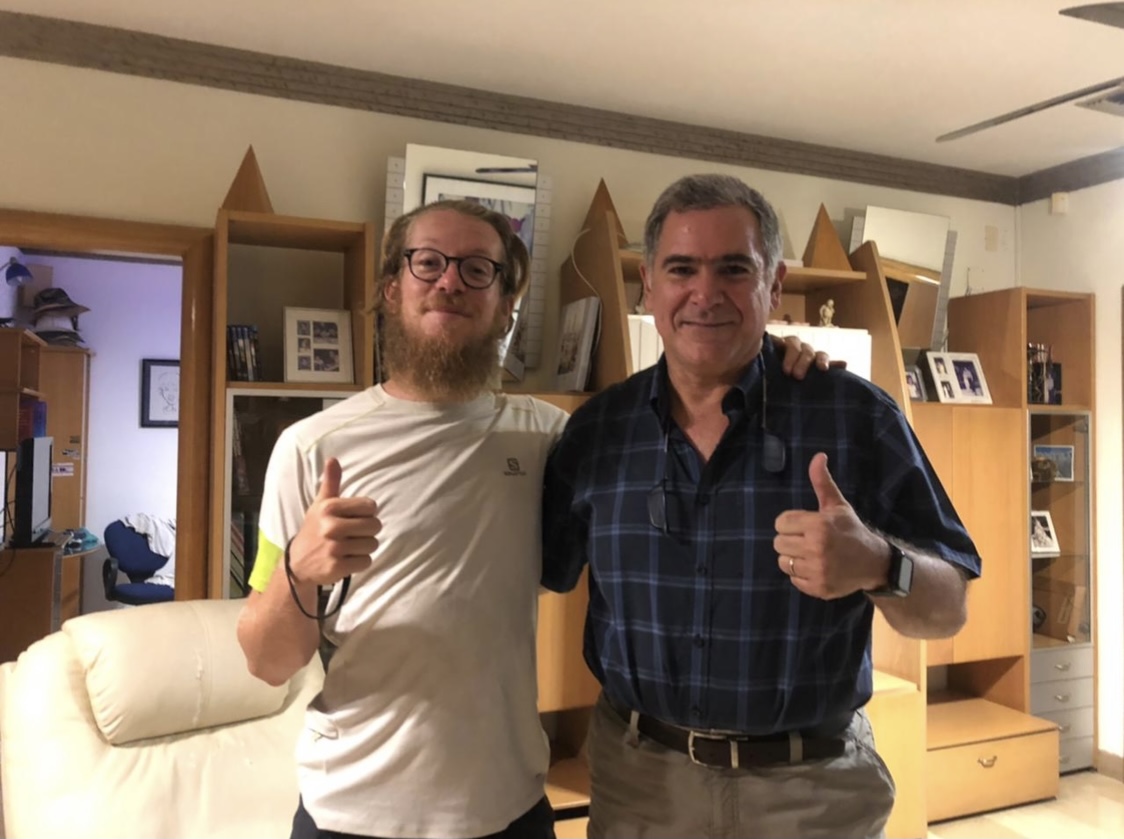 THE BEAUTY LIES IN SLOWNESS
I set off again towards Peru through the province of El Oro, a gigantic banana plantation as far as eyes can see – Ecuador is the world's leading exporter of this fruit. From here, I head down to the border of Lalamor, where I arrive in mid-July. In the meantime, Ecuadorian visa has expired and its renewal has made me reflect on the leitmotif of this trip: slowness.
I thought I would stay in Ecuador for a month, just long enough to cross it along a 1000km walk. Now that I am leaving, I look back and see four months and dozens of stories that have enriched a journey far more intense than I could have imagined. Slowness was the key to discovering the people who made this journey great, making it an experience full of lessons and memories rather than a tourist guide to the most beautiful places in the country. I approach Peru grateful for the weeks I spent here, a wonderful time that led me to fall in love with these lands.
WALKING IN PERU
In July, I entered Peru. The change from Ecuador is impressive. The desert landscape exacerbates the difference, colouring the land and the walls of the scattered houses with ocher. Once again, the beginning hit its best: after three days of walk I reach Piura and Gian, the CS national embassador of Peru! It's a huge pleasure and an honour to meet him, I feel like he's quiet some important guy I met. He texted me several days before, giving me fundamental suggestions on how to cross the border. From the first time we chatted and during the whole stay (which, again, doubles up because of his kindness and the good vibs of his place) I ask him thousands of questions about everything, especially those stunning trekkings he speaks about. I ended up adding some 3-4 extra weeks on the planned route to Lima, persuaded by Gian and the pictures he shows me on the paths along Cordillera Blanca, an Andean section protected by UNESCO within the Huascaran National Park. I meet his charming, big family, and as Italian I offer to cook some pasta and pizza for everybody – guess what's the answer. Gian smiles, he says Italians often offer to cook something or arrive with food at his place. I reckon it must be our trait, and laugh.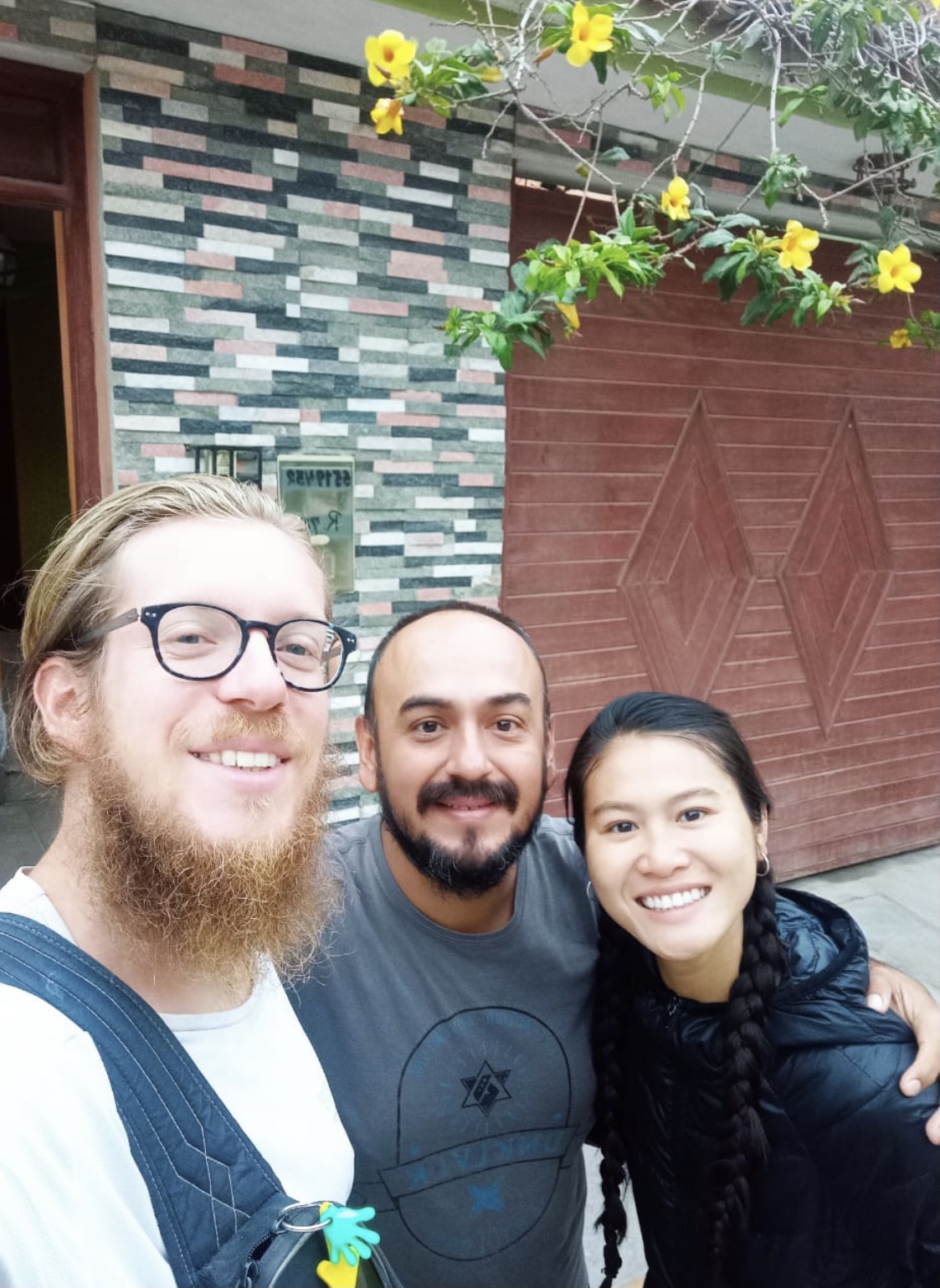 Even if I feel good, it's time to hit the road again. Goodbye to Gian and Van, a girl arrived meanwhile, and straight into Sechura desert, the first real one I walk across. It's 180 km of nothingness, only the Pan-American highway "itos" to mark the distance: numbers, not words. Crossing the desert it's intense: all the stages I have walked so far began and ended somewhere with a name, and always, always, passed through towns, perhaps small, perhaps made up of a few scattered houses, but always centres of social and human life. This time it's different: the day ends at km912 on the PE1N, the next day at km870 and so on. Numbers, not names. It has a certain effect when you pitch your tent near a number and not near something. It's intense because it's as if it never lets up: at the end of the journey you arrive nowhere and you know that tomorrow you will arrive nowhere and tomorrow again, the same nothingness. It's intense
Chiclayo stands at the end of this nothingness. It's nickname is "City of Friendship" and Alsyss, my new host, is the living proof of it. He welcomes me with King Kongs, a local food made of biscuits, jam and dulce de leche, a bomb of calories that helps me recover from the long walk. He's one of the sweetest guys I have ever met, he gets I'm pretty tired and offers me good rest, movies and warm meals, all I was dreaming about the past days.
Heading south again, I get to Trujillo and Ray, where I finally admit that without couchsurfing I'm simply lost in a new city. I'm not in the hostel mood anymore, the majority of them is for pub crawl and party mood, a part of being sadly empty because of the pandemic. There has been a time I enjoyed that, but my priorities changed and a cool, chill place to call home for a while, with a friend rather than just a traveler, it's everything I look for. I still chat with some cs met ages ago in Australia or El Salvador, and I reckon I wasn't able to do the same with many other travelers. The connection you make while at someone's place is quiet intimate and the fact you can give something too, like cooking a meal or share a memory, can easily turn out in good friendship.
Anyway, after a month along the desert coast, I returned to the Andes, arriving at Caraz, base for several treks on the Cordillera Blanca, one of the most striking Andean sections. Over the next few weeks, I discovered the incredible blues of Laguna Paron, the perfect shape of Alpamayo and even the glacier featured in the Paramount Pictures theme song, Pirámide de Garcilaso! In the meantime, I raise the bar on my physical limits, walking and camping between 4200 and 4750 metres above sea level.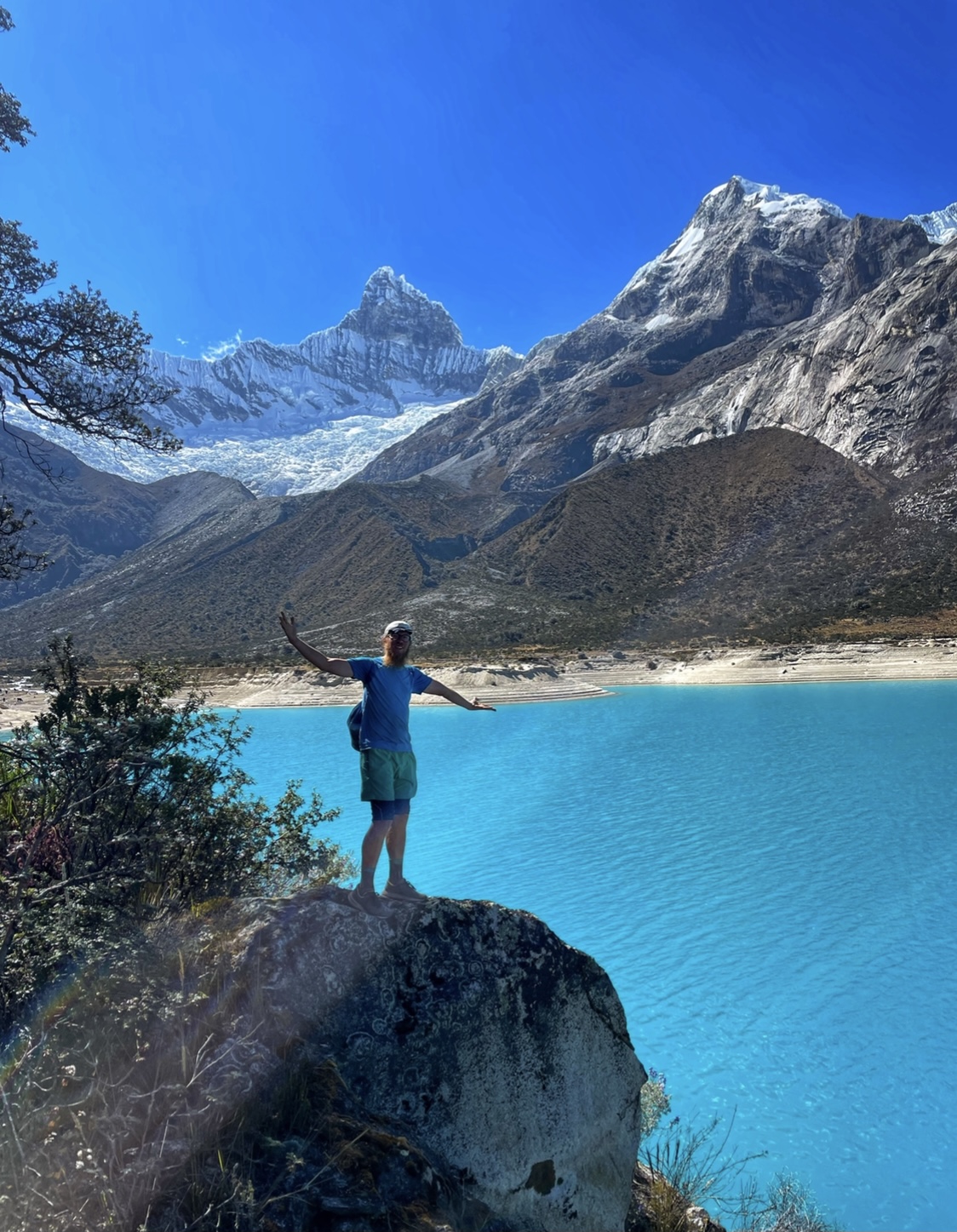 When clouds begin to appear more frequently, I decide to continue, returning to the coast and heading towards Lima. Here I take a little rest. I have been on the road for more than a year and have covered 6200 km on foot between Europe and America, passing from the sultry summer of the Po Valley to the greyness of the desert and the cold of the Andes. 
I met Gian again, with great joy. Three months have passed and I can share with him all the beautiful memories and pictures I took in the places he suggested me to go. I think that's one of the most beautiful rewards a person can give: priceless, straight gratitude.
In the last six months of my life, I walked 3000 kilometres from Quito capital to Lima capital, gathering hundreds of stories collected slowly.
I arrived in Lima on October 3rd and that's just one day in fourteen months of journey; in a while, as I stand back to look at the dream I am building, this brick will be unrecognisable, confused among all the others. But today I can see it up close, I can taste the sense of achievement; and there is a scent of satisfaction, patience and obstinacy in the knowledge that I have added just that one more day.
My gaze is turned south towards Chile, whose land border is still closed… How will I cross it?
If you want to find out, have a look to my PIEROAD Instagram page and start walking with me around the world!