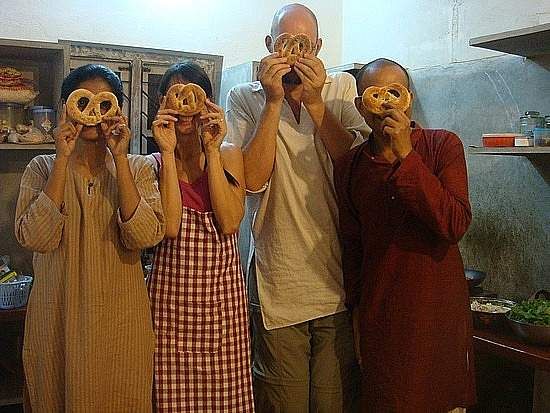 "The bathroom has no lock. Don't fret if my daughter or the dog walks in" Ingo put in casually. I was panicky. So was Rohini, my wife. This was our first time staying with a stranger. In fact a bunch of them – Ingo, his partner Genny, two daughters from Genny's  previous marriage, a dog, a cat and a hamster!
We nickname Ingo the 'German Giant'. At around seven foot, he is tall even for a German. Ingo takes full advantage of his stature, and is often intimidating. We soon realise that he acts tough on the outside, but is soft from the inside. A walnut if you may.
Genny has strong Andean features. An aquiline nose, flowing hair and a well toned body. Genny is the Manager. She manages the house. Manages Ingo, and the girls, and the pets, and now us. No wonder she was a successful Accountant with a Multinational.
The girls keep to themselves. The cat doesn't. She gets in our backpack, in our sleeping bags and keeps giving this eerie look to the hamster. The dog however, is very protective of the hamster.
Rohini and i are backpacking Europe in the autumn of 2009 and summon our courage to try Couchsurfing at Barcelona. Couchsurfing is an online community for travelers – over 11 million of them. Locals offer their couch to like-minded travelers, with no strings attached. No exchange of money. In return, you are merely encouraged to offer yours.
"Let's all attend the weekly CS meet" proposed Genny. CS is our pet name for Couchsurfing. The four of us reach a huge factory shed turned into a pub. We meet and greet fellow Couchsurfers. We realise Ingo is the CS Ambassador for Barcelona. Ingo meanwhile is high on weeds and starts acting funny. "You know what" says Genny "I am taking Ingo back. You guys continue". We are stuck with a group of strangers in the middle of the night and have no idea how to get back home. But we survive.
Next day Ingo gives his Bicing card and we explore Barcelona on cycle. Bicing is a bicycle sharing system managed by the city council. Genny had hinted about this small bar by the harbour. A standing bar, buzzing with locals. We crammed in, and had our fill of cava and tapas – sparkling wine and small eats. Salud!
Couchsurfing floods us with local knowledge – more than a Lonely Planet guide book. It is about creating real-world connection and cultural exchanges.
"Let's have an Indian dinner" said Rohini. We pick groceries from the local market and set cooking. "Make it spicy" Ingo chipped in "like the Indians do". The food turned out decent; thanks to the small spice bag we had carried back from India. "I am convinced. We are coming to India next year" says Ingo. We spend time chalking out an 8-week India travel itinerary for them.
We say we are moving to a hostel, since a friend from Bangalore is joining in. "Ask her to come stay with us" is Ingo's response. We end up not only extending our stay but are also joined in by a friend from India.
That evening Genny presents a spread of clamshell soup and raw-fish marinated in olive oil. "Are we supposed to eat this for dinner?". Our Indian friend gives us a look of dismay. But somehow with the wine and the accompaniments the food tasted better than it looked! We survive another day.
"I will leave a strong reference for you on CS. You won't have issues finding your next host" assures Ingo when we bid adieus.
What if she is a drug peddler? What if she turns out to be a serial killer? What if they are terrorists? Our friends ask, when we try to sell the concept of Couchsurfing. Well, CS has a safety net built in. Members are encouraged to write references for past guests and hosts. There have been a few instances of people looking for quick sex and the likes, but the percentage is miniscule. We go by our instinct.
At Shantiniketan, next year, Ingo and Genny stay with us for a week. "We bake pretzels today" announces Ingo. Rohini and i scatter around. What pretzels? In Shantiniketan? Where do we get an oven? A small biscuit factory comes to our rescue. We convince the owner to lend us his trays and his oven to bake pretzels. They make faces when we offer them to taste our baked goods.
We have a week of food orgy. Steckerlfisch – fish on a stick, a German affair. Ceviche – raw seafood soaked in lemon juice, from South America. And yes, loads of Indian preparations.
"Let us hire bicycles" said i "and explore Visva-Bharati University", the learning centre set up the Nobel Laureate Rabindranath Tagore. Classes to date are held beneath trees in the serene campus. The red soil of Shantiniketan is vibrant with art and music and dance.
Every other person stops Ingo to ask "Exactly how tall are you". We giggle.
News arrives that Ingo's mother passed way. Ingo was hesitant to leave his sick mother to travel to India. "Don't wait for me to die. Just go" his mother insisted. We have a group hug, and a moment of silence. Ingo is at peace.
Ingo and Genny kept sending occasional updates after they left. We hear they have moved to Ecuador. "We acquired a farm with goats, donkeys, horses, geese, pigs and lamas. I need a hand fixing the goat shed. Come over" Ingo shows us the carrot. We are tempted. We cannot make it for the repair work, but travel to South America a year later.
At Mindo, Ecuador, we land in the middle of a crisis. "One of the waiters hasn't turned up. This lone guy is struggling to serve the waiting customers" Ingo says welcoming us.  Instinctively, i pick up a tray and start serving drinks. It's another story that with my beginner's Spanish, i make a mess of the orders!
The couple have given up their farm and currently run a hotel and an eatery. Genny' daughters are teenagers now. Genny is from Ecuador. Ingo and Genny now have two more daughters between them. Introducing the new born, Ingo says "Last one, i promise". Typical Ingo.
Ingo calls up a birding guide and says "Two of my friends are here. Can you take them for a field trip tomorrow morning?" "And yes, they are my friends, so no money". "It's unfair" we protest. "She owes me for all the tourists i refer her".
Toucans and macaws and humming birds enthrall us. Mindo is a potpourri in bio-diversity.
I spend the afternoon playing with Ingo's 4-year old daughter Laia. She speaks fluent Spanish and German, but little English. We are thick friends. She takes me to her secret spot by the stream. We spend hours building a house with crude wooden blocks. Later that evening we plan to go for the 'frog concert'. "If comfortable you can take Laia with you" says Genny. Laia and i smile. We play hide-n-seek while we wait for the event to start. The hostess takes us for a walk along the bushes to spot frogs. By the time we spot this tiny-winy glass frog, Laia is peacefully sleeping on my shoulders.
"We go to the Santo Domingo market early tomorrow for our weekly supplies" said Ingo during dinner. It's a huge wholesale market with miles and miles of fruits and vegetables and fish and meat. "Hold this and take it over to the cleaning lady" Ingo hands me this huge catfish. I struggle with my Spanish but people are friendly. "This is experiencing the world in a way money can't buy" i quietly tell Rohini. The pick-up van is over-stuffed with supplies and sways on our way back.
"We cook an India meal for all the staff tonight" said Rohini. "Chapattis for me" quips in Ingo. Four hours and way past dinner time we manage an Indian spread. A staff tastes the baingan bharta and declares "This is the best aubergine i ever had".
"Isn't it amazing to have couchsurfed with you guys across three continents" Rohini says in realisation, "next we got to meet in Africa".
Connection makes us happier; we need more of it. The idea of sharing economy is old. Connecting with and accepting the kindness of strangers, strengthens our faith in humanity. It reiterates the fact that people are inherently good.
We were the first CS guests for Sharon and Martin in London. They were skeptical, and had a CS friend with them when we turned up. We reached late, but they were waiting with a traditional English dinner to welcome us. Even though they were meeting us for the first time, they were incredible – trusting us with their house keys. Couchsurfers not only open their homes, but also their lives, their hearts.
Tolerance, respect and appreciation for differences are the foundation of CS. A lone female traveler we met in South America, shocked us when she said "I believe i will get raped as soon as i come out of Delhi airport". We spent time painting a true picture of India. Many others hold this firm picture of India from Slumdog Millionaire – children begging on the street. Nothing more. We act as the Ambassadors of India promoting our country wherever we travel.
We have had amazing experiences staying with locals. Some of them life-changing. After the Europe trip we decided to do away with a maid, and do all house-work ourselves. People in Europe do not have house help. A couple in Buenos Aires were an inspiration for sustainable living. Another couple in Vladivostok inspired us to go minimalist. Yet another introduced us to vegan lifestyle in Santiago.
In Moscow, we landed in this tiny apartment of our CS hosts. We wondered where to keep our backpacks. But within moments the family made us so comfortable and the space felt so ample. While people kept telling us the opposite "Russians are cold". We spent hours talking in the narrow kitchen with an expansive view. Reflecting on his memories of the Soviet Union our host told "My home overlooked a Supermarket. Sister and i, every morning, used to make a serpentine queue with all our small toys replicating the one in front of the supermarket." "What a great representation of the collapse of the Soviet Union. The rationing of supplies and the Communist life" I commented later in my notes.
A 50-year 'young' woman in Rio de Janeiro welcomed us by saying "If you are not tired, let me show you around." She was a bundle of energy. Five hours later my marathon legs went weak, but she continued "Let's check this museum doing a special exhibition on Picasso". We did not understand a word of Portuguese and she did not understand English. However, we kept talking late in to the night. Thanks to Google translate. "Offering to cook and exchanging small presents is the highlight of CS for me" she answered, when asked what inspires her to host so many people. "The cultural exchange keeps me busy".
A German guest told this captivating story. "My father was in the East German police before the reunification. His job was to shoot people who tried to cross the border to the West. One day, he decided enough was enough, and he himself crossed the border over to the other side".
If we can't go to the world, the world comes to us. We have hosted travelers back home. A lone motorcyclist traveling across India – happened to be an Indian girl. A hitchhiker hiking his way from Holland to India. A cyclist riding from Thailand to Morocco.
"I have no idea what i will do once back home" said the cyclist. We realised people across the planet have similar fears, similar insecurities, similar aspirations.
It is satisfying to know that a stranger will open her home for me, the next city i travel to.