Written by Nico, a Couchsurfer from Italy
On the outskirts of Quito, capital of Ecuador, rainbow-colored block letters state that we are on the "Mitad del Mundo," or the equator line. On the opposite side of Latin America, south, a humble but equally striking sign is the traditional departure or arrival point for cyclists traveling along Ruta 40, the road through Argentine Patagonia. On the latter sign, in the city of Ushuaia, travelers and tourists read "Welcome to the End of the World". Twelve thousand miles of adventure separate the two points: one continent, four countries, the Andes, the driest desert in the world and dozens of natural wonders, stories, and people. Some people travel this distance by bike, some by motorcycle, some by van or camper. Two years ago, I decided to cover it on foot.
My name is Nico and my dream is to walk around the world. I started from home in Italy, pushing a stroller named Ezio that carries everything I need, from food to a tent. After crossing Western Europe by walking and the Atlantic Ocean by boat, I arrived in Latin America and decided to walk it from north to south towards the End of the World. This is a short story about that journey.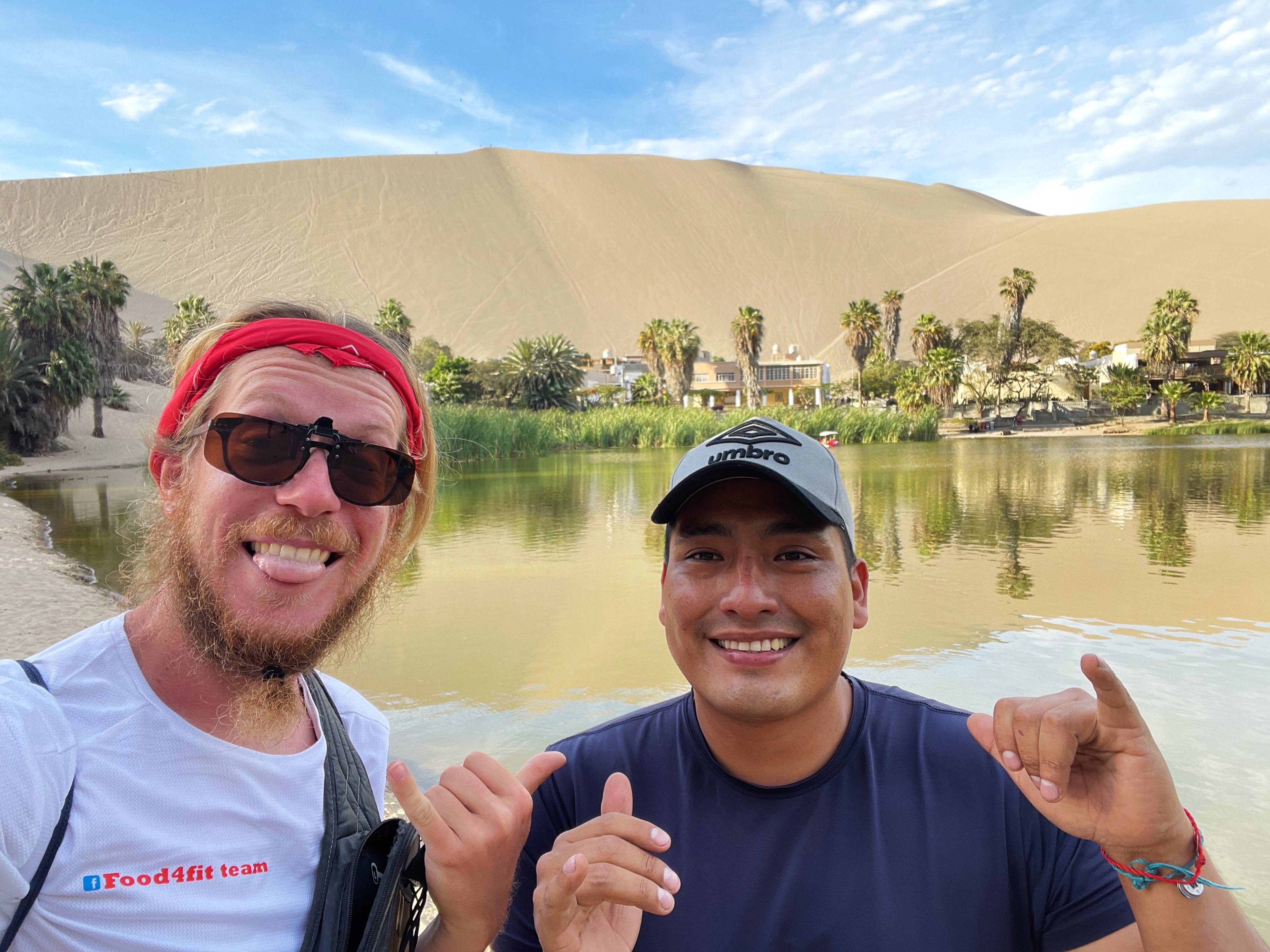 First Steps in South America
The stop in Panama was brief but significant. I had interrupted the walk in Spain, on the shores of the Atlantic Ocean, and wanted to pick it up from where I had stopped and take it across the strait to the shores of the Pacific Ocean. Humberto was the first person to host me in Latin America. We had met on Couchsurfing a few days before I arrived and although he was a decent walker, I saw him hesitate when I proposed to come with me. Ninety kilometers in equatorial heat is an unappealing idea for anyone. I decided to leave Ezio at Humberto's house so as to travel lighter. I would cover the distance in two days so apart from the tent I did not need much equipment. Only one item was out of place: a large iron machete lent by a ranger. The reason? Try sleeping in 35 degrees and 90 percent relative humidity! The cool feeling of the iron on my body was a panacea, and I was able to fall asleep only by lying shirtless on top of the machete. Less than 48 hours later I had dipped my hands in both Oceans. The world wide walk had landed on the other side of Latin America. I chose to continue from Quito, so as to begin the descent south and the End of the World from its iconic Mitad.
One of the stories you get if you travel on foot is that from the airport to the nearest city it can take up to two days. I landed at 3 p.m. local time, 40 km to Quito; not doable before nightfall. I headed for Tumbaco, one of the capital's suburbs, where Couchsurfing had connected me to David. It took me a few hours to get there, but when I arrived and started knocking on the door, no one answered. Lights were off. I don't know why, but I decided to pull down the doorknob and – come on! It was open! My eyes were immediately caught by the rectangular whiteness of a sheet of paper resting on top of the table. A message? "Hi Nico, sorry but I had to leave for work and will be back the day after tomorrow. I wrote you but I don't think you'll get the message because you still won't have the local sim. Make yourself at home, I hope to see you, text me when you'll have data, I'll catch you in Quito." I looked up from the slip of paper, dumbfounded. Welcome to Ecuador!
We managed to meet a few days later over a pizza and wine. David was friend with Alejandra, my host in Quito, so we had arranged a rendezvous at his home. The first week had flown by and my new friends had been great hosts. We had spent entire afternoons talking about history, geography, legends and folk festivals, and now I had some general knowledge about Ecuador. I set off amidst hugs and began the descent of the Andes in a state of euphoria. From the 2800 meters of Quito I arrived in a few weeks at the coast, near the city of Manta and the starting point of the Ruta del Spondylus, a shell sacred to the native peoples that lends its name to the southern coastal road. I traveled it all the way to Guayaquil, the country's second biggest city, and after five years I was reunited with Juan Pablo.
"Buena Onda, Pana!"
We had met while working in Australia, had kept in touch, and now Juan Pablo – JP to his friends – was hosting me at his home in the Couch mood. His father had passed me a list of typical foods to try, with the promise that if I ate at least half of them I could declare myself Ecuadorian by adoption! I was well on my way and without knowing it, I had come close to the quorum. Chontacuro's Bicho, on the other hand, was missing. "What is it?" I asked Pablo. He burst into laughter and when I looked at him he replied crying, "A huge worm typical of the Amazon! Very rich in protein, you should try it!" 
From Guayaquil I made a pleasant detour to the Galapagos, the archipelago of dreams where nature coexists with man. It was May 2021, covid vaccines were starting to come out and the Galapagos had been chosen by the government to start vaccinations. They wanted to make them covid-free to bring tourism back to the islands. There was a rumor that they were vaccinating foreigners as well, so I wanted to try the gamble. I had a local contact, another Alejandra, who would host me. I took a flight to San Cristobal and in a few days I got the first dose. I would have to wait for the second one on the island, so I stopped to rest in that natural paradise. From San Cristobal I moved on to Isabela, the wildest island, and although it was also the least inhabited I managed once again to Couchsurf – and double, too. I met Liz for a beer and Cesar at his family's restaurant. It was the latter who hosted me and recommended several hidden goodies, including a cave unknown to most people on the island. Ceiling and walls were encrusted with sulfur, which condensation made glow like gold. If you tried to touch the treasure, the magic vanished, because the moisture would fall off and you would find yourself staring at a yellow wall. Upon returning from the trip, Cesar informed me that it was his birthday and he was having a huge barbecue with the whole family. "Are you coming?" Not really asking… These are the best experiences Couchsurfing can give!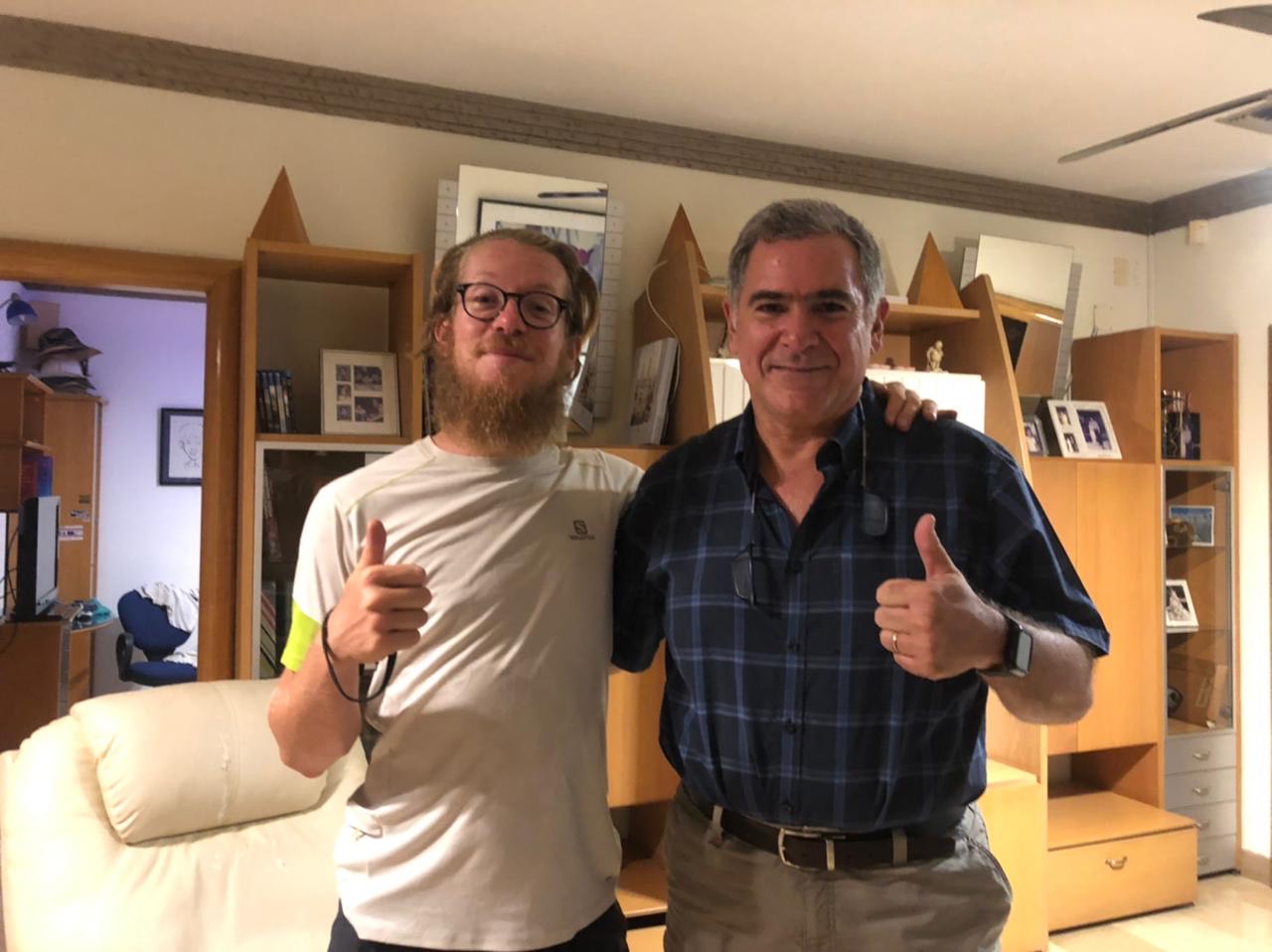 Walking in Peru
I returned to the mainland to resume the journey. From Guayaquil I headed toward the border of Peru, crossing the endless banana plantations in the El Oro region. After a thousand kilometers on foot, I was about to leave Ecuador. I thought I would cross the border at Aguas Verdes, but a message I had received a few days earlier had made me take another route. Gian is Couchsurfing ambassador in Peru and had contacted me, offering me to stay with him in Piura. The town was about a hundred kilometers from the border and when I asked him what he thought about the crossing he suggested to cross further east, near Lalamor – less traffic, quieter. I followed the tip and in a few days we were face to face in his home in Piura, the City of Eternal Summer. I will always remember the comment I made as soon as I arrived:
"Gian, where is the roof?" 
"It never rains here, so there is not one." 
Just as Alejandra had been my guide to Ecuador as soon as I had arrived, Gian was happy to explain to me how things worked in Peru. We saw the route together – all along the coast to make it easier. But again, Gian changed my mind. He pulled out a few photos of the Cordillera Blanca, a section of the northern Peruvian Andes with spectacular views, and showed me the trekking routes I could take once I reached them. Alright, Ezio and I were going to the Andes! 
The ascent from the coast to the 2,400 meters of Caraz, the first village overlooking the White Andes, was slow and gradual. Thanks to the advice of Dani, a guy I had met through hangouts and who had traveled the length of Peru on his bike, I had managed to avoid the 4,000-meter pass laying between the Panamericana and Caraz valley. The road along the Pato Canyon was longer, but had the advantage of being significantly safer and more scenic. Considering that I was traveling exclusively on foot, pushing a stroller that between supplies and equipment weighed 50 kilograms, choosing a road without high mountain passes was the best strategy for my legs. The Cordillera Blanca treks kept me there for almost a month: it was there that I fell in love with Peru. September was done when my eyes had enough of the enchanted lagoons and majestic glaciers. The appointment in Lima was again with Gian, who had some business to attend to in the city just on the days I was passing through. We met at his house with some other guys he was hosting and I was able to tell them about the wonders I had seen thanks to our host's advice.
Lima is located half the length of Peru: 1,500 km to the north were gone, now it was time for the southern part, the most desert and least populated. I would have to carry more water and food, and do free camping between towns. I got used to the routine of setting up camp when the hike was over and taking it down early in the morning, before dawn. I was walking an average of 40km a day, and truth be told, I was serene and enjoying it. The Peruvian desert is warm and dry, it doesn't rain and there is little wind – these are ideal conditions for people who want to walk. Every now and then I would arrive in a village, refuel, visit something and then leave again. I remember a warm welcome in Ica, famous for its wine and the oasis in the dunes that looks like a postcard. Alberto had contacted me via Instagram offering his hospitality and I had spent beautiful days with him and his family, competing to see who could cook the best meal. I was the first person they were welcoming this way, so I told them about Couchsurfing – that this was exactly what we were doing. Alberto liked the idea so much that he signed up the same day I showed him the app. It's been a year since we met and despite time and distance my friend is always eager to share the stories of the people he is hosting.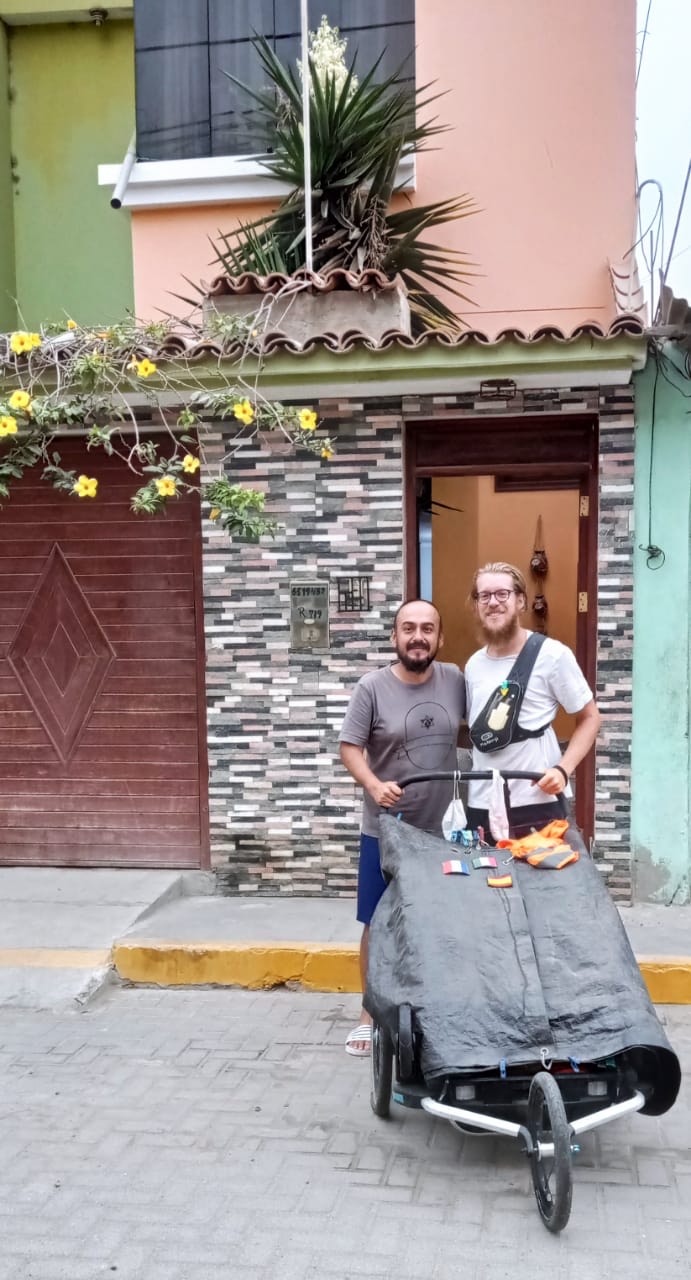 The Longest Country in the World
The gps was marking 4000 km in Latin America (7000km since the round-the-world walking trip had begun) when I crossed the border into Chile and entered the driest desert in the world: Atacama. Some regions have not recorded rain in seventy years, and the air is so dry that even in the absence of wind your lips crack. Despite this, it was paradise for me: apart from the wind rising in the afternoon, conditions for walking were perfect. And I will tell you more: even in the driest desert in the world I found fertile ground for new friendships. In every town I passed through, there was someone to welcome me: Marcelo in Arica, Maribel in Iquique, and Nelson in Antofagasta. Every time I left the desert I could recover and talk with someone about the thoughts birthed during the weeks of solitude leading me to a treasure: dialogue with myself. But another treasure, of a completely different kind, was waiting around the corner….
I arrived in La Serena, concluding the journey in Norte Grande, the most desolate part of Chile. I was greeted by Belén. We talked for hours about our lives and one night we stayed up late talking about the concept of beauty with which we interpret what we experience. It was one of the questions that had pushed me to leave: if my life were a work of art, would I go and see it? I would if it teaches me something or is beautiful, but then what does it mean to live a beautiful life? We took apart and reassembled hypotheses for hours until we concluded that we had no conclusion.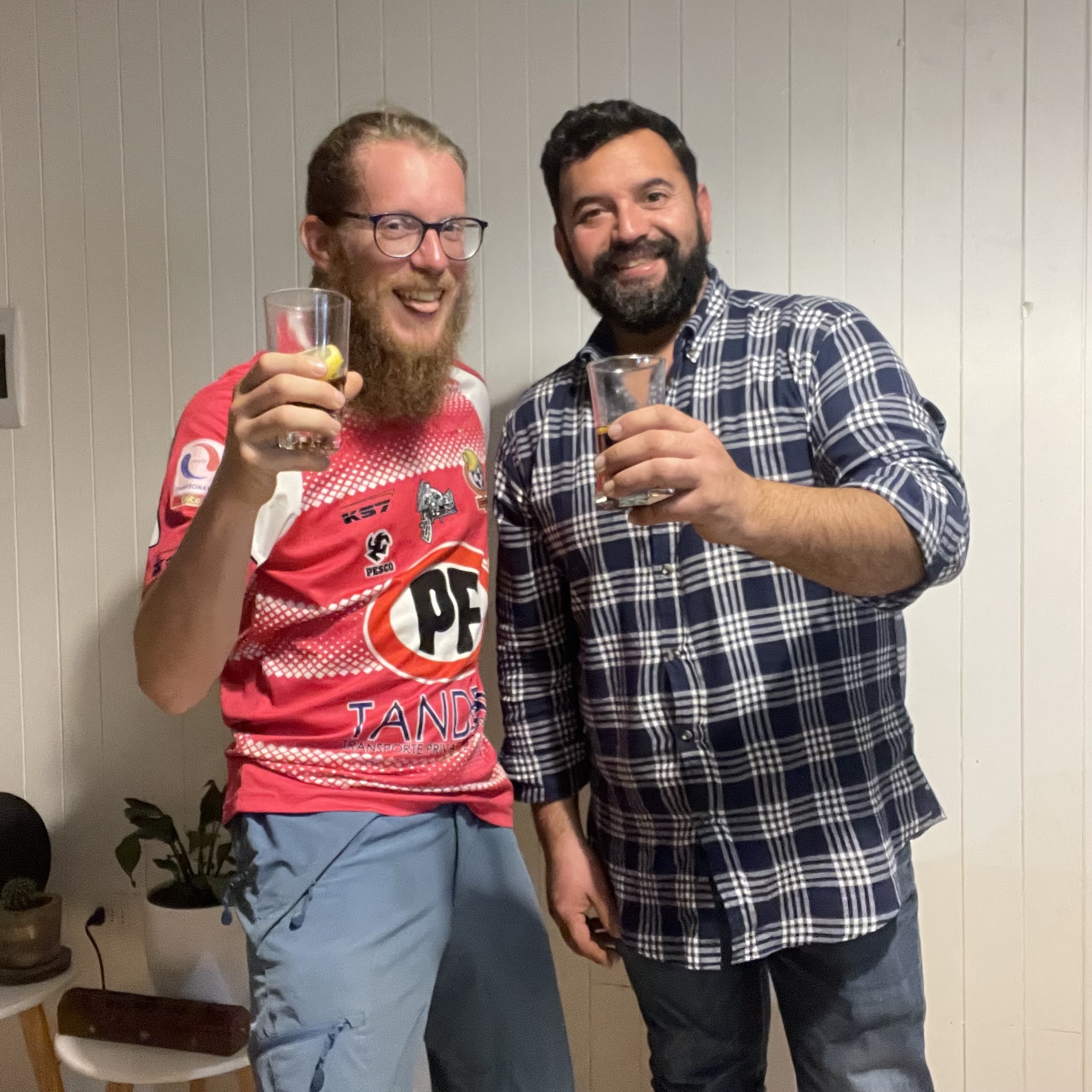 South
I resumed my journey and passed Santiago, the capital. The south of the country is famous for being tremendously rainy, however, it is also definitely populated. The new balance brought the tent to rest inside Ezio and me to find shelter from dozens of people through Couchsurfing. I was struck by the variety and creativity of the characters I was meeting. Here, people made concrete crafts or huge papier-mâché masks in the shape of fantastical animals called Alebrijes. One guy, Ivan, had just returned home after leaving his boat moored in the Caribbean, waiting for the hurricane season to end so he could sail back among the white-sandy islands. Belén joined me twice. Belén suggested to walk a piece of the world wide walk with me. I accepted and we set a date for a few weeks later, on the starting line of the legendary Carretera Austral, the road of wonders in southern Chile.
A few days before we rejoined, I celebrated together with Claudio the 100th night in Couchsurfing. I had met dozens of people, met an ambassador and was becoming one too by talking about the wonderful experiences I had had and leading people to join the network of contacts nurtured by Couchsurfing. I reached the Carretera Austral and for the first time in two years I walked with someone by my side. We were a trio: Belén, me and Ezio, which was carrying both our luggages plus a cardboard box set up outside with all the supplies. Belen is a biologist, so every tree and animal had a name: thanks to her patience I learned to recognize them and give them a story. At the end of the three month Carretera journey, in Villa O'Higgins, I found out the border to Argentina was still closed from covid era. If I wanted to stick to my commitment and do it all on foot, I would have to take a 500-kilometer detour to get to the other side. So I did.
I had to go back 50 kilometers (a considerable distance on foot) and then out the hellish Mayer Pass, a tangle of river fords, swamps, paths that got lost and a sheeps footbridge suspended over a rushing stream. At the end, hundreds of miles of desolate pampas, an incessant wind screaming all day long and absolute desolation. I could only rely on myself and my faithful companion, no possibility of refueling, all the food had been stowed inside the stroller. It took me two weeks to reach Chaltèn, Argentina's national trekking capital. I continued the walk south after being duly refreshed and rested, passing close to Calafate and Perito Moreno, one of the most famous and scenic glaciers. I wanted to return to Chile because by then I had traveled it all, from the far north of Arica to Bahia Bahamonde, where the road ended. I could have been the first to travel the entire length of Chile by walking.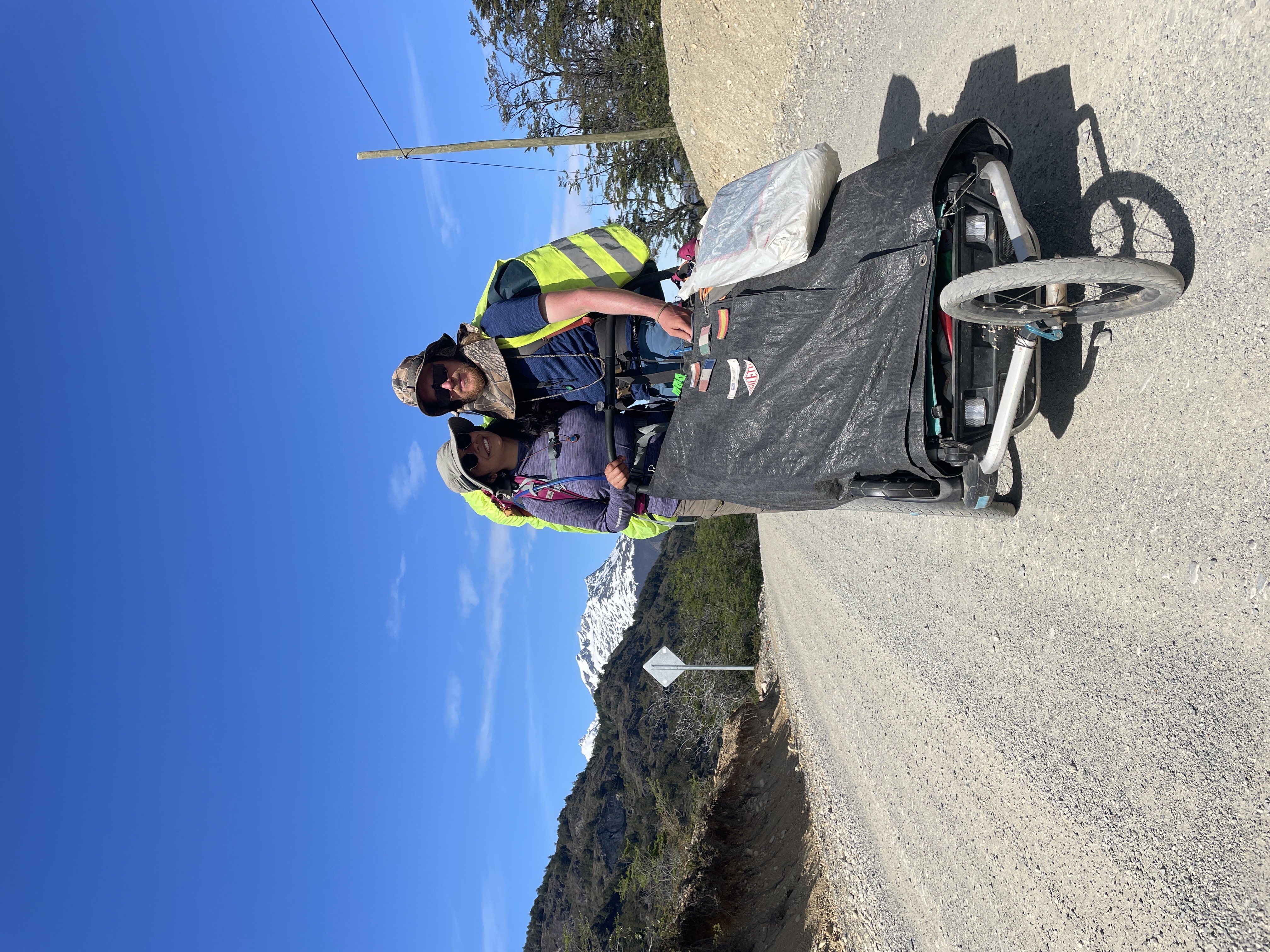 The End of the World
On Christmas night I camped at the border, Argentine side. The gendarmes let me pitch the tent behind the guardhouse – and they even gave me something to eat! The next day I was in Chile again, greeted by a blizzard with 80km/h winds, gusts powerful enough to move Ezio despite his 50 kg.
I arrived in Punta Arenas ready for the last act: Tierra del Fuego. It is an island farther south than Patagonia and home to the world's southernmost city, my destination and the end of the South American chapter of the world wide walk: Ushuaia, the End of the World. I walked the last stretch of Chile, from Porvenir to the San Sebastian Pass, ending the epic journey in the longest country of the world. It had taken me a year to cross it, time in which I had walked almost 6,000 kilometers from Arica to San Sebastian. I don't know of any other people who had ever done it: I was the first person to do it. 
I was in Argentina again and 450km from the border, the End of the World was waiting for me. I arrived there on January 24, 2023, after traveling 12,000km through four countries: Ecuador, Peru, Chile and Argentina. I had crossed three deserts, climbed the Andes and worn out nine pairs of shoes since I left Quito and the Mitad del Mundo two years earlier.
I could write a book about what happened in the meantime – and probably I will – but what can I leave you in a short story of a few lines?
"If you believe in your dreams you can achieve them," as cheesy as it sounds, it's true. So I'll tell you this: slow down. Go slowly, don't rush to do things and then say you've done them. Take your time, put some effort and give meaning to it, so that when you get to the sign that marks the finish line you will not just embrace a piece of wood, but yourself and the time you have spent making your dream come true. Have the curiosity to see beauty in diversity and the patience to grasp diversity in slowness. Slow down, because going slow is the best way to become who you are.