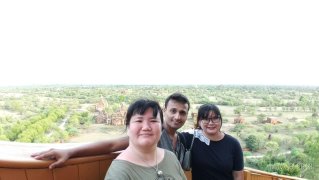 It was in May 2018 that I did my first international travel, leaving my home nation India for the first time ever. I was having a mixed feeling of excitement and nervousness as i embarked on that solo journey of 70 days spanning 5 countries with nothing but the flight tickets reserved..
My first country being Myanmar, i landed in the south burmese city Yangon and checked in some hostel in the city centre. Though i had a confirmed host in the city, there was some last minute cancellation of their plans and i had to look for alternatives.
When i looked through the fellow travellers' list in the same place at the same time, I found few matching profiles and messaged them and got reply from one of them- Dwi suyono, an indonesian girl travelling in Burma. It so happened that we were both staying in just adjacent hostels. One of her friends also was about the reach the next day at Yangon and then we three were travelling for the next days in Yangon, Bagan, Golden rock temple amongst other places.
During that travel, we actually realised that our trip to Sri lanka also has matching dates and we got another chance to meet and travel in Sri lanka where we had an amazing time travelling in Sri lankan hill stations, Galle city and Unawatuna.
Couchsurfing community has brought us together and among the countless wonderful experiences i had through Couchsurfing, this one stands very close and very deep down in my heart.