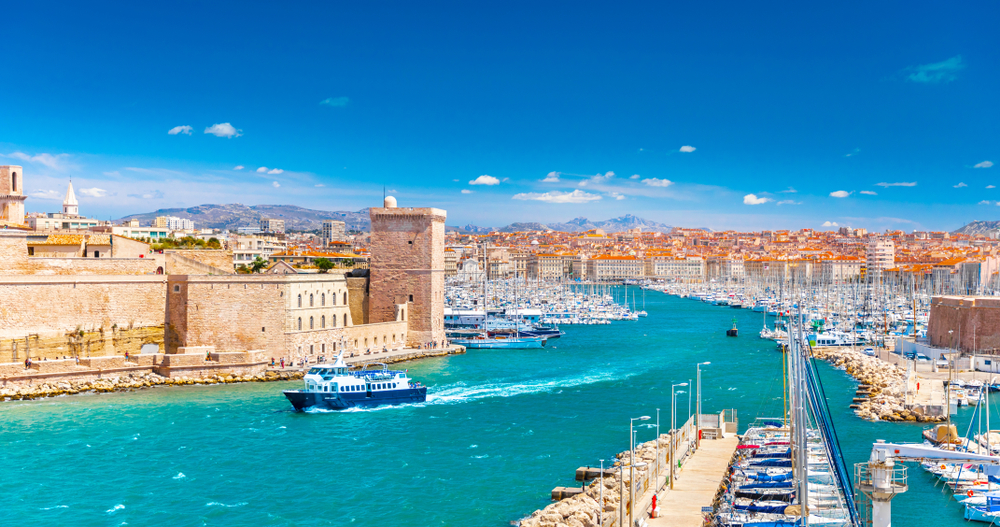 Best breakfast in town!
Have you really been to France without stepping into a French bakery? Make sure it's the first thing ticked off your list at Le Panificateur in La Joliette. The mouthwatering smell of butter alone will entice you to try all the wonderful pastries they have to offer, all made with organic flour. Plus their coffee is from a local specialty roaster, Café Corto.

If instead you intend on breakfasting in bed, plan ahead and head over to Maison Saint-Honoré in Castellane or Saint-Victor. Their selection of sourdoughs made with a myriad of heirloom grains are the perfect base for jam and butter, fresh tomatoes and olive oil, or even just on their own. It's that good.

One museum not to miss!
If you only have time for one museum in Marseille, let it be Mucem. It's on all the tourist guides for a reason. Although the exhibitions are worth every penny, entry to Mucem and the fort is free, so you can still enjoy the rippled patterns in the building's delicate envelope, the curated gardens and sweeping views atop the fort, and float between the two over the walkway.

If time is on your side, then it's time to check out Friche La Belle de Mai. A cultural venue that brings together art, gardening, sport, music and dance, for ages 0 to 100. You can be sure there's something new here every time you come back to the Cité Phocéenne.

Don't forget, all the permanent exhibitions in museums have free entrance every first Sunday of the month.

Best place to grab a drink!
Take a "petit jaune"—a glass of pastis for the uninitiated—at Au Petit Nice at Place Jean Jaurès. It doesn't matter who you are or where you come from, everyone is treated like a regular here, and even though the terrasse might seem full of regulars, somehow you'll always find enough seats for your party. If the flavour of anise is a little too strong for your taste, try it sweetened with some syrup:
Le Perroquet, with mint syrup
La Tomate, with grenadine
Or La Mauresque, with orgeat (my personal favourite)

If beer is more your thing, you'll find a cave of treasures at La Cane Bière in Cinq Avenues (not to be confused with Marseille's main thoroughfare). It might take a while to choose from the floor-to-ceiling collection of brews from around the globe, but whatever you pick I'm sure it will be fabulous.

And for those who can't miss the game, a lively crowd awaits you at the Shamrock in Le Vieux Port.
Where to dance!
Go to the oldest nightclub downtown: Trolleybus. Open from midnight to 6am and conveniently located at the Vieux Port, inside find 3 dance floors each with different music, converted from a 17th century galley arsenal. Before the nightclub was founded, the arsenal housed a pétanque terrain, a typical Provençal game. Even the nightclubs have history in Marseille.

A treat-yourself-meal!
For a delightful Mediterranean meal in a cute courtyard, book a table at La Cantinetta, just next to Cours Julien. Don't worry about checking the menu on google maps, as it changes every day—each time as good as the last, if not better! This is the place for fine wines and even finer dining.

Or, make a reservation that will take you back to the fifties, where the future is full of wondrous possibilities, at Le Ventre de l'Architecte. Located in Le Corbusier's Cité Radieuse, you can combine food and architecture in a truly unique setting.

Best quick bite!
Every region has their slang, and Marseille's no exception. 'Tarpin' is a Marseillais word that means 'really' or in the UK, 'bloody'—as in, "it's really bloody good". Anyway! If you're looking for a quick bite to eat around Rue de Rome high street, grab a Berliner kebab at Le Tarpin Bon. It's not local cuisine, sure, but it's really tarpin good.

Where to sweat!
One of the most scenic running spots in Marseille can be found along La Corniche. You can incorporate some sightseeing into your jog with the Marégraphe, the observatory that determines France's altitude 0—or in other words, sea-level.
Every last Sunday of the month, the City of Marseille closes off the whole Corniche from motorised traffic in an event called 'La Voie est Libre'. The whole serpentine road is free for bikes, skateboards, rollerblades and runners alike.
Once you've finished your cardio, cool off with some saltwater in the Piscine Maritime at Vallon des Auffes or Les Bains Militaires at Endoume.

If the sea's looking rough but you still want to take a dip, try a municipal pool in the shape of a sunflower. That's right, France was into biomimetics way back in the 1980s, building over 180 sun-loving swimming pools featuring a dome that can open up its 'petals' 120 degrees depending on the weather. Some of them have even been given the label '20th Century Heritage', including Bonneveine municipal pool in the 8th arrondissement.

If you're looking for a little more flavour than a traditional workout, try some rock climbing at Arkose Prado. The chill, convivial vibes will help you overcome any fear of heights. Once you've worked up an appetite, take a seasonal salad in the canteen… or a burger and a beer, we won't judge.

Best view of the city!
Best view from the summit: capture the rugged limestone and pine of the national park of Calanques with the baked roof tiles of the city at Col de La Gineste, just past Vaufrèges.

Best view from the sea: take the scenic route from Le Vieux Port to either Pointe Rouge or to L'Estaque, with La Navette ferry service.

You can also take the ferry to the Iles du Frioul to enjoy an insular version of the Calanques, or stop off at Château d'If to relive the story of the Count of Monte Cristo.
Don't forget, take sunscreen as there are no trees, and the last ferry from the island is at midnight.

Cute café!
You want really great coffee? You're in the Vieux Port? Check out Deep, a local roaster revelling in the current coffee renaissance. They regularly change up their offer of grains with techniques like black honey process and anaerobic fermentation. They also collaborate with unique artisans and publications so you can always check out some new curated curios.

Best day-trip out of town!
Get your car keys, we're going on a ride! Follow the picturesque road through the national park, over La Gineste, down to Cassis, over la Route des Crêtes, and back down to La Ciotat. Bonus points if you catch the sunset over the cliffs. Just be careful: in the summer, grab the first parking spot you find in Cassis, because you probably won't find another one. Or take the M8 bus for €2 and avoid the parking altogether! Prepare a picnic and head to Calanque de Port Pin, or enjoy an aperitif by La Ciotat harbour.

You can also take the train to Arles, situated at the head of the Rhône river delta, known for its artistic and photographic history. Further afield, catch a glimpse of flamingos in the Camargue region, where its own variety of rice is grown.

Where to try the local cuisine!
€ – After a healthy hike along La Côte Bleue, you've earned a little bit of unhealthy goodness. It's time to try panisses at Chez Freddy in l'Éstaque, essentially fried chickpea slices that need nothing more than a touch of salt and pepper. If you've got room for dessert after that, try some chichis, or orange-blossom flavoured doughnuts.

€€ – Enjoy the balmy evening air, a welcoming atmosphere, and delicious local dishes at Le Refuge in Le Panier. Their daily menu is inspired by classic Provençale cuisine, so if you're looking for local, take refuge in this cosy restaurant.

€€€ – If there's one dish Marseille is known for, it's bouillabaisse. But this fish dish is not for the fainthearted: treat it with respect by booking a table at Chez Fonfon in Vallon des Auffes, and you will be rewarded with a wonderful experience of fine French food in one of the loveliest corners of the city.

Don't forget to eat another old specialty called "navettes": these authentic biscuits are made in an old bakery, called La Four des Navettes near abbaye St Victor. They make a great souvenir gift too.

The perfect picture!
There's only one place that comes to mind. Take the B1 bus to Parc National des Calanques, and start climbing until you reach the Belvédère de Sugiton. Honestly though, every spot along the Col de Sugiton is breathtaking, so have your camera ready as you make your way down to the beach.

Family fun!
Where else to have some family fun than at the beach or the park? And why not both? Spend an afternoon at Parc Borély, located a stone's throw from the city's beaches. It has 17 hectares of gardens, water features, kiosks, and most importantly, play areas! Curiously, it also has some special inhabitants, and they're not your typical pond-dwelling ducks: 50 or so coypu, or 'ragondins' in French, call the park home.
Campagne Pastré, half park, half forest, is nestled between the sea and the hills of Marseilleveyre, and is another great spot for families, children and pets, who can roam around free in certain areas.
Historic moment!
La Cité Radieuse, affectionately dubbed 'Le Corbu', is a landmark residential building in Sainte-Anne. Designed by Le Corbusier and inaugurated in 1952, the project was a turning point for the architect and for the city of Marseille, which had suffered heavy bombing during the Second World War and was about to witness a building boom. Today you can visit for free the 'streets' on the 3rd and 4th floors, have a drink in the bar, or enjoy the wind and the skies on the cruise ship-like rooftop.

If you want to go even further back in time, discover the Greek origins of Massilia and the Original Old Port at the Musée d'histoire de la Ville de Marseille.

If you've got extra time for history, also check out Palais Longchamp, l'abbaye Saint-Victor, le quartier du Panier, la cathédrale La Major, and bien sûr la Basilique Notre Dame de la Garde! (AKA La Bonne Mère)
One experience not to miss!
Escape the hustle and bustle of the city centre: find peace and tranquillity in the Calanques National Park. Even in the summer, there's space enough for everyone along the rugged cliffs and beaches. Just bring plenty of water and wear good shoes for the walk. Sure, the national park is not a hidden gem, but that doesn't mean it's not an experience to miss! I'll let every other guide to Marseille fill you in on the best spots.

A tourist trap to avoid!
Beware the dozens of souvenir shops selling soap. According to Made in Marseille, 95% of soap sold with the label Savon de Marseille are fabricated in other countries. Only a handful of companies make their soap in Marseille with the traditional recipe. Look for olive green or cream coloured soaps with labels such as Cheval de Fer or Marius Fabre, which belong to the Union des Professionnels du Savon de Marseille, an association petitioning for an IGP (Indication Géographique Protégée).
Anything else to add…
C'est Marseille bébé !