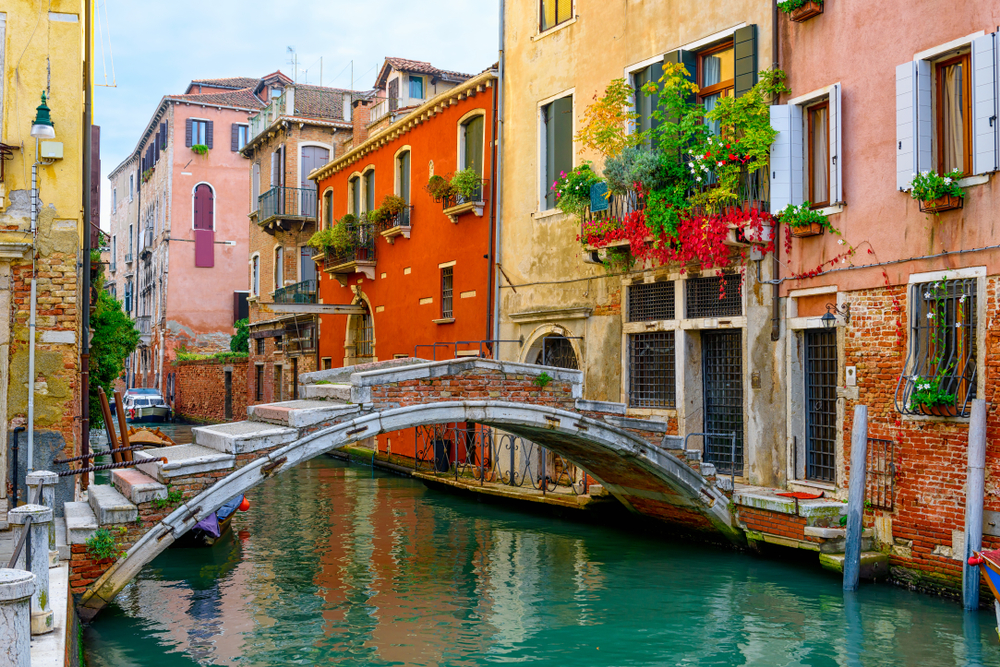 It's something you always hear about: my semester abroad. I'm okay with the cliche. I worked for it. I had spent the previous semester interning and working part time in order to save up for the trip. I used up my entire savings so that I could spend a summer in Europe and looking back four years later, it was the best decision I could have made. Unlike my peers, I couldn't afford to stay in fancy hotels or hip hostels, but I didn't want to anyways. Couchsurfing was made for someone like me.
**
I'm 20 years old and I'm on a train that's winding its way from the hills of Northern France to the spidery canals of Venice. I haven't eaten all day, apart from the jar of peanut butter in my backpack that I've been taking swipes from. I watch the scenes pass from the window in my compartment and anticipate that we are soon to arrive. I pull out my phone to send a message to Emilio, the Couchsurfing host that I had connected with earlier that week.
"Hey – I think we will be there in about 15 minutes" I receive an enthusiastic reply and think how grateful I am that we can communicate in English.
I step out of the shadowed station and into the dazzling whiteness that is the Stazione di Venezia Santa Lucia. I walk towards the crowd and scan for the face I've tried to memorize from the profile. Someone  calls my name and I see him.
Wow, he's cute  – a passing thought as we greet each other, all smiles and hugs. Emilio hails a cab and we head to the apartment that he shares for a chance to drop off my bag. The house is inviting, with a buzz of conversations I cannot understand (I later find out that Emilio is studying Chinese and Korean and all of his roommates are fellow foreign language students). My arrival is celebrated and I am immediately shoved towards the kitchen where I spend the next hours learning the intricacies of capellini and being served the most delicious homemade Italian that I have ever had.
With my belly warm and bloated, Emilio and I take to the streets. We walk endlessly, turning corners, into dead-ends, and he teaches me about the city and its history. He allows me to stop and take photographs and gawk at the architecture. In the evening, we head to the square to meet some of his university friends. Someone brings out a guitar, someone else a violin, and we dance.
Emilio and I spend the next couple of days exploring the city's ins and outs – me checking off my site-seeing list and he failing to convince me that Italian espresso is a delight. Emilio is a breakdancer and I sit in the shade and watch as he busks, feeling like a 'cool' young person. I hold the hat as people drop in change and stare in amazement at the headspins and windmills. We find a concrete ledge overlooking a particularly beautiful canal and lay back, falling asleep in the late afternoon heat. I barely notice the man who attempts to insult us, calling us street kids.
On my last day in Venice, we head to his hometown so I can meet his family. It is everything you might imagine, full of love. We sit in the park by his childhood home and Francisco opens up emotionally to me. He cries as he tells me his life story and about the pain that he had endured. We share this moment and embrace and wipe away the tears with acceptance and friendship.
Later that night, I find myself again on a train, thinking about what had passed between us. Thinking about what Venice had brought me, what Couchsurfing had welcomed me into.
That trip I was initiated to the world of Couchsurfing. I became a part of the community of travelers that supports and assists one another along our journeys. I had forged a true and precious connection with a stranger and learned something about trust and about the universal bond we all share. Emilio and I are still friends and I am still grateful to Couchsurfing for the many memories it made possible.
**Emilio's name has been changed for privacy