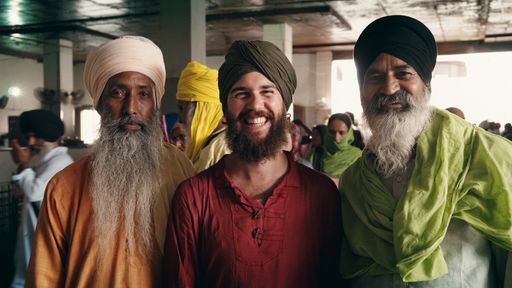 I'm Christoph, a young filmmaker from Austria and I produced a film about Couchsurfing, called COUCH CONNECTIONS.
I guess, most of you feel the same like me right now – missing to host someone on your couch or starting adventures on your own! Here in Austria we are already having our second lock-down and the number of COVID cases are going up again almost worldwide…
Therefore we still have to wait a bit to go on a journey again!Meanwhile, I have a good opportunity for you to bring back some Couchsurfing vibes! I would love to introduce you to my documentary about Couchsurfing. I was traveling for nine months around the globe from couch to couch.
It was an unbelievable journey and I just met wonderful people and showed me again, that the world actually isn't a big bad place. But there are really wonderful people out there! And as we all know: In a world full of barriers, building bridges between cultures is often linked with fear, caution and sometimes even rejection.
That's why this film has been made: it shows that sometimes it only takes a few steps towards other people to establish wonderful friendships. Why not start by sharing something personal? Why not start by inviting them to your living room, to talk, to laugh, to exchange. All that sitting on a couch! Therefore, the main focus of the film is on the people which participate in Couchsurfing and their great diversity.
My hosts couldn't have been more different from one another: from a 21-year-old student in a student dorm, to a family in which three generations take part in Couchsurfing, to a nudist in Manhattan and a transgender in Bangkok.
So I hope I can help you to get some travel memories back and to stay strong till we can travel again! I wish you a lot of fun during my 75 minutes documentary.
It's available to stream it on my website or on AMAZON PRIME. I´m sure we will meet up someday, somewhere!Stay strong, stay healthy and keep smiling!
Link to the Trailer: https://www.youtube.com/watch?v=yiBrDaswCOk&feature=emb_title
Website: www.couch-connections.com