Name: John & Lena Berry   
City: Thetford, Vermont
Years on CS: 12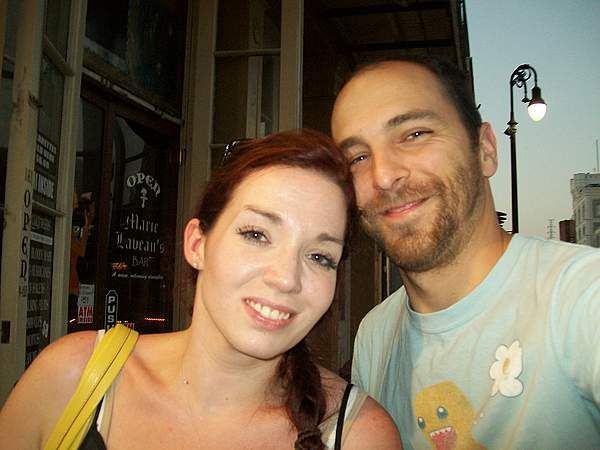 How did you learn about Couchsurfing? 
When we lived in Hawaii we met a guy named Gordon who was traveling using CS, WOOFing and helpx. We traveled around the island hiking and snorkelling with him and found the idea of sharing adventures with others captivating and more meaningful than simply checking boxes of sites to see.
Why did you decide to get involved with Couchsurfing?
We travel primarily as a family but find that most non-CS families are hesitant to begin surfing because they wonder about safety and if hosts will be accepting of the difficulties young children bring. Many years ago, along with City, Country, and Nomadic Ambassadors, there were Family Ambassadors. Since bring Couchsurfing into the lives of other families was already our mission, that role was a perfect fit for us. Eventually that role was removed but we continue on as Ambassadors because we still fully believe in the mission of the community. We are more active as hosts but we still use CS every time we visit a new place. Often, we plan our travels around whether or not we can link up with other CS members. The hangouts feature of the mobile app has been incredibly useful for meeting others without a ton of planning before hand. We have used it in several different countries, including our own.
What was your first CS experience?
Our first hosting experience was with Pete and Chandra while we were living in Louisiana. Their hosts canceled last minute so we agreed to host them and are we happy with that choice. They were excellent guests and with such a wonderful initial introduction they showed us just how enjoyable hosting can be. They set the bar very high. As for surfing, we stayed with Véro and Nic during our trip to Montreal. They showed us around and gave us a ton of advice for what to see and do while we were there. Perhaps the best part of that trip was spent around their table chatting about everything into the evening. We learned that forming those connections, even if only ephemeral, can be more important than seeing a few more pretty buildings. We ended up staying with them one or two more times in subsequent trips.
What was one of your most interesting hosting experiences?
The American holiday Thanksgiving is an important one in our house. Food, family, and friends around a table is our idea of paradise. In 2019 none of our family were able to visit due to a variety of circumstances. However, we did receive a couch request from a group of students from Taiwan most of whom had never surfed before nor experienced Thanksgiving. We welcomed them into our home and, despite not having family at home, we still had a warm and wonderful holiday. They stayed with us for three days and every night we stayed up discussing politics and culture. Lena even taught them how to make real cranberry sauce.
What about surfing?
Our favourites are always those that have been with other families. For example, while traveling through Scandinavia, the four of us surfed with a Danish woman named Rikke with her family and absolutely loved it. They welcomed us into their home like family and what was supposed to only be two days turned into three because we didn't want to leave. Rikke taught us how to make bread and rugbrød. They were such a wonderful group of people and even though our kids didn't share a language they had no trouble playing together.
What is the coolest gift you've ever received?
We hosted an entire family from Bretagne, France and the surfer's older parents brought us foie gras. We are foodies to our core and this gift was incredibly yummy.
What is one book that has inspired your travels?
To narrow it down to a single book if truly difficult but there is an adventurer that I admire named Alastair Humphreys who biked around the world for four years and wrote several books about it along with a book called "Microadventures". The idea behind it is that not everyone can plan huge, grand adventures and not everyone needs to. It is entirely possible to spend very little and have amazing adventures even over the course of a single weekend. We often have this idea that for something to be a "real" adventure we need to fly to some foreign land and engage in some epic quest when in reality, we can have adventures in our own hometown. This especially rings true for those with families and small children. Don't let life get in the way of getting out there.        
What is the craziest thing that has ever happened to you while traveling?
We were visiting Romania and decided to get together with some locals using the hangouts app. We met at a coffee/wine bar one evening and eventually were joined by a few people who offered to show all of us a great place to get some cheap beer. We assumed it was a normal bar but during our walk there we found out that it wasn't necessarily a legitimate establishment. We were all led to an apartment with a staircase that led to the basement. Have I mentioned yet that we are trusting people? So we walk down the stairs and through a door into a wall of cigarette smoke. It turns out that this "bar" was run out of someone's home and was packed with people. All around were groups of people joyfully talking and there was even a very cramped area where a few were dancing. Our fellow CSers grabbed me (John) a beer and Lena asked for some wine. The proprietor pulls out this large jug of homemade wine and pours her a glass which turns out to be really good. We only stayed about an hour since we don't smoke and couldn't really handle it anymore but we spent the entire time talking to others who lived there. Without a doubt we took a risk but in the end it was one of our favourite experiences of the entire visit. They were incredibly welcoming and hospitable and demonstrate how awesome this community can be.
What is your favorite local cuisine from your hometown?
Apple cider from Vermont is the nectar of the gods. Now take that and put it into donut form and you have the wonderful Apple cider donuts.
What is your dream vacation?
We have been wanting to do a trip where we can combine self-powered transport with good food. One option is to bike a route through France while stopping at various regions to sample local staples including cheeses and wines. Another would be to ski the Haute Route through the Alps though this one may be more difficult to include different food types.
What is one piece of advice you would give to new Couchsurfers? 
The Couchsurfing community is what you make it. You will likely come across people who complain about various parts and will say that "Couchsurfing is dead" but that isn't true. There are still many, many wonderful hosts and surfers out there and it is up to you to find them. Everyone that I have met have been exceptional people that I would gladly welcome into my home. Make sure that you fill out your profile. Of course it can't convey all that is you but it does at least provide a small window into who you are for potential hosts and surfers.